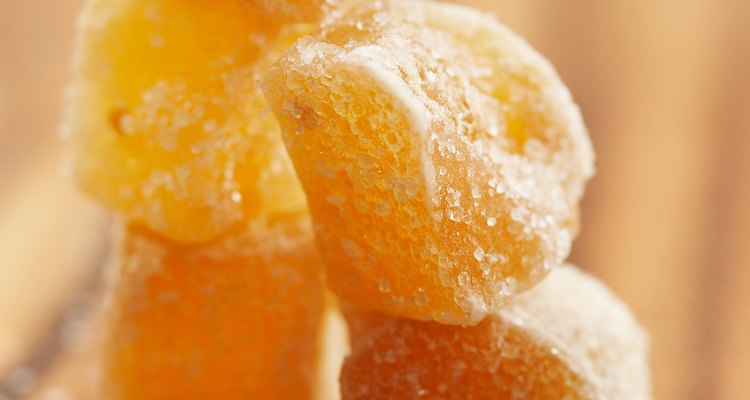 Jupiterimages/Photos.com/Getty Images
Most of us see candied fruit only during holiday fruitcake season. In reality, you can use candied fruit in baked goods all year round. Candied fruit has undergone a cooking process that involves steeping them in sugar syrup. This process is what gives the ingredient its shiny glazed look, chewy consistency and intensely sweet flavor.
Description
Fruits typically sold in a candied form include orange and lemon peel, pineapple, whole or halved red or dyed-green cherries, and citron, which is a lemon-like fruit grown in Florida and California. Only the rind of the citron is sold in a candied form. Candied fruits are sold individually in bags or small tubs, or as combinations of two or more fruits. Blends typically include pineapple, cherries, lemon peel, orange peel and citron. The pineapple peel is removed and only the flesh is used, while cherries are used whole, halved or chopped. In the case of oranges and lemons, only the peel is used.
Uses
Beyond the traditional holiday fruitcake, include candied fruits in cookies, bars and breads. Candied fruit cookies, for example, incorporate the chewiness and richness of fruitcake but with fewer ingredients. The cookies provide a quick and healthy after-school snack, and are easy to store and pack in lunches. Use less candied fruit than you would in a fruitcake, and supplement it with chopped dates and toasted nuts. Some recipes combine fresh fruit with candied fruits, as in a cranberry bread that incorporates candied and chopped mixed peel with chopped fresh or frozen cranberries.
Do It Yourself
Make your own candied orange or lemon peel by removing the skins from the fruit and slicing them into narrow strips. After blanching and draining the strips three times, replace the blanching water with equal parts fresh water and sugar. Cook the peels until they become translucent and the sugar syrup thickens, a process that takes about 1 1/2 hours. After removing the peels, use the syrup in beverages or as a pancake topping. Once fruit peels are dry, leave as is or toss them in more sugar and let them dry a bit longer. Store and use them as strips or cut them into smaller pieces to add to other candied fruits used in baking. Cherries and chunks of pineapple do not require the blanching.
Considerations
Many people dislike commercially made fruitcakes because the high fruit-to-dry-ingredients ratio produces a very dense and cloyingly sweet product. Bake your own using individually packaged candied fruits, which gives you more control over the fruits you like and don't like. Substitute other dried fruits -- such as figs, raisins, currants, apricots and dates -- for candied fruit, which can result in a lower sugar content and more appealing taste.
References
Writer Bio
Rachel Lovejoy has been writing professionally since 1990 and currently writes a weekly column entitled "From the Urban Wilderness" for the Journal Tribune in Biddeford, Maine, as well as short novellas for Amazon Kindle. Lovejoy graduated from the University of Southern Maine in 1996 with a Bachelor of Arts in English.
Photo Credits
Jupiterimages/Photos.com/Getty Images