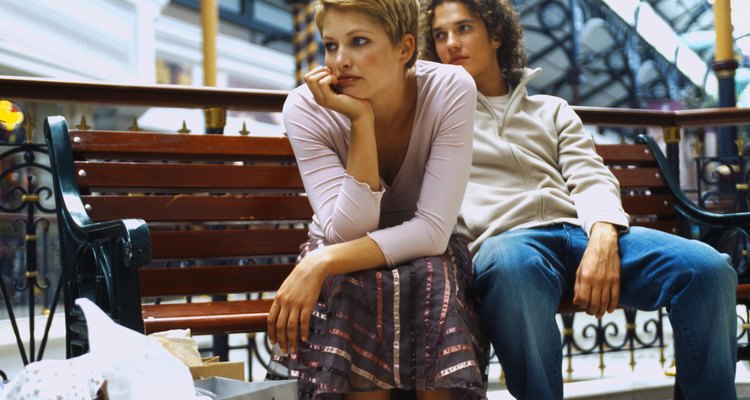 Stockbyte/Stockbyte/Getty Images
Awkward silences are uncomfortable in any situation. When they occur between friends, they're not only unpleasant, they can strain a friendship. If you've noticed a trend of awkward silences cropping up between yourself and a friend, learn to get a handle on the situation. By preventing those silences, or by learning to keep them from being uncomfortable, you can create conversations that flow easily and strengthen friendships.
Relax
Not all silences have to be awkward. Transform the awkward silence into a comfortable one through your demeanor. Relax and pretend as though you are lost in thought. Remind yourself that there's nothing wrong with a lull in conversation. Smile, sit back in your chair and breathe deeply. Wait patiently for your friend to resume the conversation or until you think of something else you'd like to say. If you are relaxed, you will also help your friend to be relaxed.
Laugh It Off
In some cases, the best thing to do with an awkward silence is to call attention to it. If you have a good rapport with your friend, point out the awkward silence and have a laugh over it. If you said something strange or inappropriate right before the silence, poke a little fun at yourself. If your friend was the last one to speak, you can still poke fun at yourself for your awkward, silent reaction. The more confidently you can laugh at and poke fun at the situation, the more your friend will follow your lead and the awkwardness will be broken. This will help prevent further awkward silences.
Music
Whenever music is playing, every silence is filled and awkward silences are impossible. Fill lulls in conversation by actively listening to music. If you are genuinely paying attention to what you are hearing, you will seem comfortable during silence without trying to. Whenever possible, make sure that there is music playing if a friend is visiting you. When in public, listen for music playing on the overhead systems.
Making Plans
If you have any friends who aren't very good conversationalists, or if you feel less than comfortable in this area, make plans accordingly. Play games or watch movies together so that you don't have to rely on chatting at all times. When going out, visit noisy and busy places where nobody will feel pressured to speak all the time.
Better Conversation
Avoid some awkward silences by improving your conversation skills. When an uncomfortable gap threatens the conversation, change the subject. If need be, ask your friend questions about recent events and occurrences in his life. Let him take the lead as far as what to talk about and as far as the pace of the conversation. Remember that different people like to converse at different speeds.
References
"Confident Conversation: How to Communicate Successfully in Any Situation"; Mike Bechtle.
Writer Bio
Lauren Vork has been a writer for 20 years, writing both fiction and nonfiction. Her work has appeared in "The Lovelorn" online magazine and thecvstore.net. Vork holds a bachelor's degree in music performance from St. Olaf College.
Photo Credits
Stockbyte/Stockbyte/Getty Images