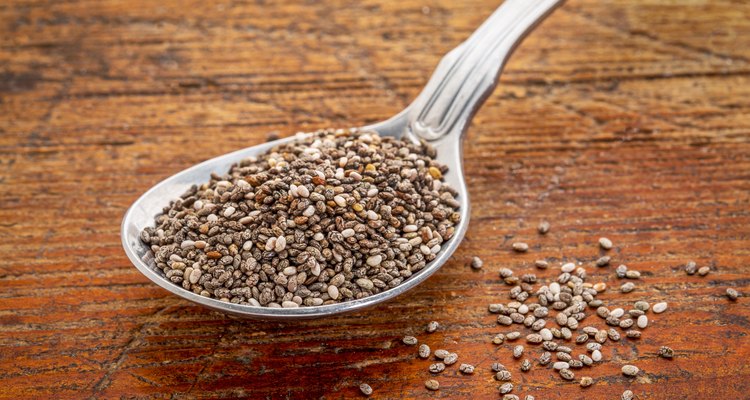 marekuliasz/iStock/Getty Images
No longer only a source of green hair for pottery animals and political figures, chia seeds have emerged as a rich source of omega-3 fatty acids, fiber and protein. Learn how to cook with raw organic chia seeds to use this heart-healthy food in your meals. Chia seeds, Salvia hispanica, are a versatile source of nutrition, but they may not be suitable for everyone. As with any nutritional supplement, talk to your doctor before adding chia seeds to your diet.
Raw Organic Chia Seeds
Organically grown seeds are free of the pesticides and fungicides often used on commercially grown foods. They are generally sold as dry, raw seeds, and are sometimes called salba. A 1-ounce serving of dry chia seeds contain 138 calories, 4.6 grams of protein, 8.7 grams of fat, 11.9 grams of carbohydrates and 9.8 grams of fiber, according to the USDA National Nutrient Database for Standard Reference. Although some recipes call for soaking or grinding chia seeds, it's fine to use the chia seeds whole, such as for granola, salads or soups.
Chia Cooking Basics
Chia seeds swell and become glutinous, forming a thick gel when they absorb moisture. They work well in baked goods, vegetarian dishes, casseroles and breakfast foods. The seeds mix well with grain, eggs, ground meat, vegetables, smoothies and stews. For recipes that call for soaked or "prepared" chia seeds, slowly pour the seeds into water while stirring with a whisk, according to James F. Scheer, author of "The Magic of Chia." Scheer suggests using 2 1/2 cups of water per 1/4 cup of chia seeds. Keep the mixture refrigerated.
Cooking with Chia Seeds
Using a food dehydrator to make crackers with chia seeds results in a snack that's still technically raw. The shallow trays used to make fruit roll-ups in a dehydrator will work for making chia crackers. A food processor, coffee grinder or spice grinder works well to grind chia seeds for porridge or bread. Combine chia seeds with dry ingredients to make pancakes, muffins, carrot cake and other baked goods. For best results, use recipes intended for chia seeds to become familiar with them before attempting to make substitutions in your favorite recipes. They don't work well for foods that need a thin consistency -- such as sauces, gravies and broth -- because of their thickening effect.
Chia Seeds Considerations
Dry raw chia seeds can absorb seven times their weight in water -- and may cause dehydration. You should drink extra water when you eat dry chia seeds. Although chia seeds offer a healthy source of omega 3 and other nutrients, they are not a substitute for medical treatment. Attempting to self-diagnose or self-treat a medical condition can have serious consequences. Despite claims that chia seeds promote weight loss, preliminary studies haven't found weight loss benefits, according to the Memorial Sloan-Kettering Cancer Center.
References
The Magic of Chia: Revival of an Ancient Wonder Food; James F. Scheer
Writer Bio
Gryphon Adams began publishing in 1985. He contributed to the "San Francisco Chronicle" and "Dark Voices." Adams writes about a variety of topics, including teaching, floral design, landscaping and home furnishings. Adams is a certified health educator and a massage practitioner. He received his Master of Fine Arts at San Francisco State University.
Photo Credits
marekuliasz/iStock/Getty Images