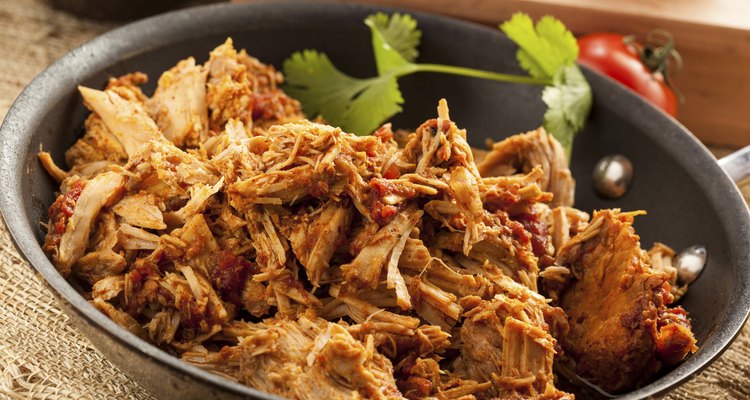 bhofack2/iStock/Getty Images
Shredded beef is a versatile ingredient. You can serve it with bold sauce as a barbecue sandwich, use it to stuff ravioli or cannelloni -- or fill a taco shell. It's also a fine alternative to ground beef in chili, casseroles and pasta sauces. The key to cooking beef for shredding is choosing an appropriate cut. You'll only achieve the right consistency with a tough cut of beef, slow-cooked for hours. The heart, brisket, tail, shank and shoulder chuck cuts are all appropriate for the purpose.
Lay your beef on a cutting board. With a sharp knife, trim away any excessive surface fat or visible connective tissues. If the cuts you're using are bone-in, wipe the ends of the bone with a paper towel to ensure there aren't any small fragments left from cutting.
Add the oil to your Dutch oven and heat. Brown the beef on all sides, working in small batches if you have several small pieces rather than one large one. If you're using a slow cooker, brown the meat in a skillet instead.
Return the beef to your Dutch oven, or transfer it to the slow cooker. Season it with salt and pepper, then add onions, garlic, bay leaf or other seasonings as appropriate.
Put your Dutch oven in a preheated 300 degree F oven and slow-cook the beef for two to four hours, depending on the cut, until it is fork-tender. Some cuts may take longer. For a slow cooker, cook approximately three to four hours on "high," or six to eight on "low."
Remove the meat from your Dutch oven or crock pot when it's suitably tender. Transfer it to a large plate or bowl, cover it and keep warm for 15 to 20 minutes.
Remove any surface fat from the beef and shred it with your fingers or a pair of forks. Use immediately, or package for refrigeration and freezing.
References
"On Food and Cooking: The Science and Lore of the Kitchen"; Harold McGee; 2004
Writer Bio
Fred Decker is a trained chef and prolific freelance writer. In previous careers, he sold insurance and mutual funds, and was a longtime retailer. He was educated at Memorial University of Newfoundland and the Northern Alberta Institute of Technology. His articles have appeared on numerous home and garden sites including GoneOutdoors, TheNest and eHow.
Photo Credits
bhofack2/iStock/Getty Images