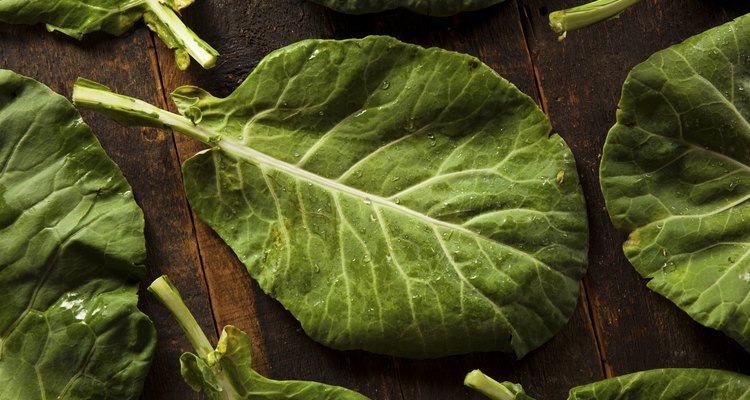 bhofack2/iStock/Getty Images
It pays to eat your leafy green vegetables. A 1-cup serving of collard greens offers 5.2 grams of protein, 7.6 grams of fiber, 268 milligrams of calcium, 2.2 mg of iron, and 14,440 International Units of Vitamin A. Most people eat collard greens steamed or boiled, rather than raw. Traditional preparation in the southern U.S. involves cooking the greens with bacon or pork drippings, onion and salt, which adds unhealthy saturated fat and sodium to the dish. Preserve the vegetable's inherent nutritional benefits by sauteing with olive oil and seasoning with spices instead.
Rinse the collard greens under cold water and shake off the excess water. Trim the stalks from the collard greens and discard, then roughly chop the greens.
Set the stockpot on the stove and fill with 1 inch of water. Place the vegetable steamer inside the pot and add the collard greens. Place the lid over the pot and turn on the heat. Bring the water to a boil.
Steam the collards for four or five minutes or until wilted. Turn off the heat.
Warm 1 tsp. of olive oil in the skillet over medium-low heat and add the steamed greens to the pan. Season with salt and pepper to taste, and add a pinch of cayenne pepper or red pepper flakes for zest. Sautee the greens, tossing occasionally with the tongs, until most of the water clinging to the greens has evaporated.
Transfer the cooked greens to a platter or serving bowl. Dress the greens with red wine vinegar and additional olive oil.
References
Photo Credits
bhofack2/iStock/Getty Images