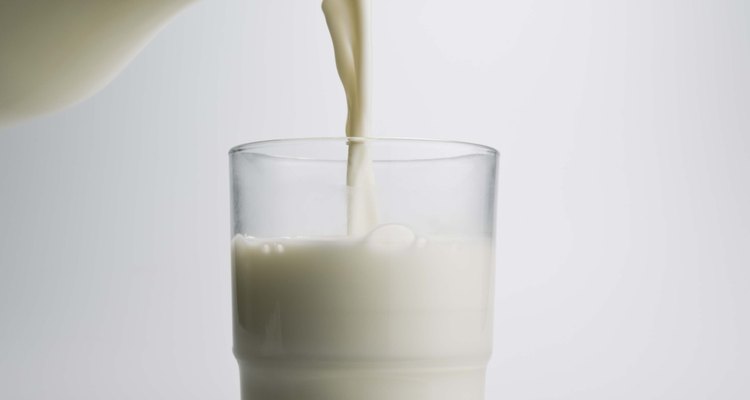 Jupiterimages/Comstock/Getty Images
Pasteurization is a method used to increase the shelf life of many products from milk to canned vegetables. Flash pasteurization treats foods and liquids at high temperatures for a short amount of time to slow microbial growth. Advances in food processing technology have perfected the procedure to maintain the taste and quality of food products.
Pasteurization
Pasteurization is a process perfected by Louis Pasteur in the 1860s in which a food product is heated to a specific temperature for a specific amount of time and then cooled. This process lengthens the shelf life of foods and beverages by slowing the growth of microbes, but not killing all of them. It kills harmful bacteria such as E. coli, Salmonella and Listeria, according to Michigan State University. Products that are commonly pasteurized include milk, dairy products, juices, bottled water and canned foods.
Flash Pasteurization
Flash pasteurization is a newer modification of the traditional pasteurization procedure but is based on the same basic principle. Instead of heating the container of food or liquid, as in traditional pasteurization, the batch of liquid is subjected to high temperatures as it is being poured into sterile containers. This method uses higher temperatures than traditional pasteurization and only requires about 15 seconds rather than 30 minutes, according to Michigan State University. This method is commonly used for the pasteurization of bulk products.
Benefits
Flash pasteurization is especially beneficial to maintain the flavor, color and nutritional benefits of certain products such as fruit juices. This method is able to further extend the shelf life of certain products compared to traditional pasteurization. For example, flash pasteurized milk has a refrigerated shelf life of two to three weeks. A study published in "Frontiers in Bioscience" reported that flash pasteurization was optimal to maintain the nutritional quality of human breast milk compared to other methods. Pasteurization methods are tightly regulated by the United States Department of Agriculture to ensure the safety of the products being produced.
Drawbacks
Flash pasteurization is a much more expensive process than the traditional method due to the technology that is involved. There is also some evidence that the high temperatures involved in the process can destroy or alter the activity of beneficial compounds in food products, such as certain immunoglobulins in breast milk, as reported in the "Journal of Perinatology." Flash pasteurization could also kill some non-pathogenic beneficial microbes in products. These issues are what have led many to consume unpasteurized products. However, there is a danger of contamination in consuming these products if they are stored for even short periods of time.
References
Writer Bio
Based in Boston, Dr. Timothy Blalock was a senior scientist and regulatory writer at pharmaceutical companies where he developed preclinical research models, authored manuscripts and wrote grants/regulatory documents. He has produced many published scientific articles and is a member of the American Medical Writers Association. Blalock holds a Ph.D. in biomedical science from the University of Florida.
Photo Credits
Jupiterimages/Comstock/Getty Images