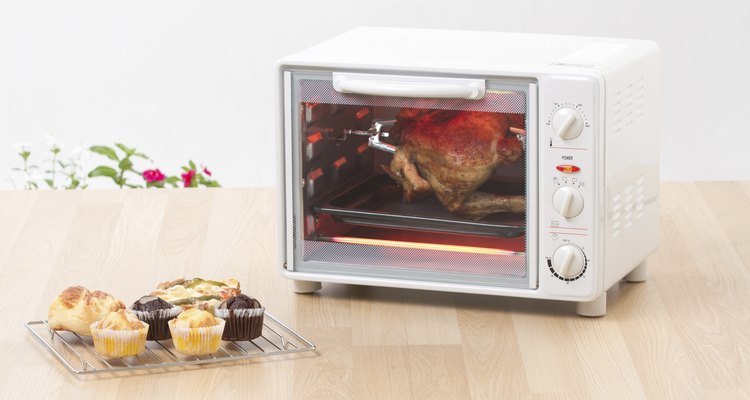 John_Kasawa/iStock/Getty Images
A roaster oven lets you roast large cuts of meat, steam your meats and vegetables, slow cook large amounts of food and bake the same items that you would in a conventional wall oven or range without the excess heat they create. The portability of the roaster lets you bake almost anywhere you have access to a 15-amp wall receptacle. Use your roaster to bake items, such as cakes, pies, convenience foods and casseroles and reduce the heat in your kitchen.
Place a baking rack into the bottom of the roaster. This promotes more even cooking of your food. Covering the baking rack with heavy-duty aluminum foil lets you use the baking rack as a baking sheet for cookies and pizzas.
Cover your roaster with the lid and set the temperature to correspond with what your recipe calls for. For example, a frozen pizza requires a temperature setting of 425 degrees Fahrenheit; packaged biscuits require 375 degrees Fahrenheit, while brownies require a temperature of 350 degrees Fahrenheit.
Allow the roaster to preheat with the cover on for 20 minutes.
Bake two dishes at a time if your roaster is large enough. An 18-qt. roaster holds two loaf pans, letting you bake two loafs of bread at the same time. Three 1 1/2- qt. casserole dishes fits in this size roaster, letting you bake an entire meal, such as a meat load, a side dish and baked potatoes.
Follow the directions of your recipe for cook times, as these will vary from dish to dish. Breads can take up to 75 minutes; baked potatoes can take up to 70 minutes.
References
"Now You're Cooking With Nesco: 18-Quart Roaster Oven Recipes and Use/Care Instructions"; The Metal Ware Corp.; 1991
Writer Bio
Cecilia Harsch has been writing professionally since 2009. She writes mainly home improvement, health and travel articles for various online publications. She has several years of experience in the home-improvement industry, focusing on gardening, and a background in group exercise instruction. Harsch received her Certified Nurses Assistant license in 2004. She attended Tarrant County College and studied English composition.
Photo Credits
John_Kasawa/iStock/Getty Images