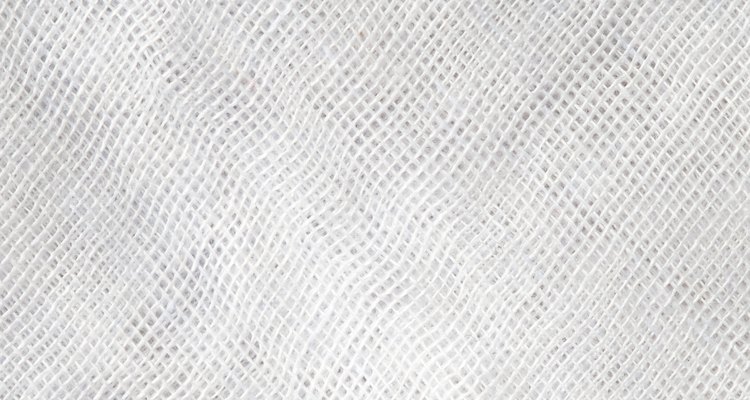 Kodamatobi/iStock/Getty Images
Keeping turkeys from getting dry has been an issue that has plagued many cooks throughout the years. However, having a turkey that is moist does not have to be difficult. One technique that is used to keep the turkey moist during the cooking process is the use of a cheesecloth. The cheesecloth is soaked in butter or oil and placed over the turkey breast, which is normally the driest part of the turkey. This helps add and lock in moisture. Using a cheesecloth is a simple way to keep this delicious dish moist.
Preheat your oven to 450 degrees Fahrenheit.
Heat 1/2 cup of butter and 2 cups of white wine in a small saucepan until the butter has melted. Soak a piece of cheesecloth in the butter and wine mixture.
Remove the giblet bag from the cavity of a thawed turkey. This bag contains the neck and organs. You may keep the giblets to make gravy or discard.
Wash the turkey with cool water and dry it with paper towels.
Sprinkle the inside and outside of the turkey well with salt and pepper.
Place your turkey in a v-rack in a large roasting pan with the breast side up. Place the soaked cheesecloth on the breast. Save the rest of the butter mixture to use for basting.
Roast your turkey for 30 minutes.
Remove the turkey from the oven and baste the cheesecloth and exposed areas of the turkey with the butter and wine mixture. Return the turkey to the oven at 350 degrees Fahrenheit.
Roast the turkey for 1 hour 30 minutes. Baste the turkey with the butter mixture every 30 minutes.
Remove the turkey from the oven. Remove the cheesecloth and baste the turkey. Return the turkey to the oven and cook the turkey for 30 to 60 minutes or until a meat thermometer reads 165 degrees Fahrenheit when inserted into the turkey thigh.
Remove the turkey from the oven and let the turkey rest for 20 minutes before carving.
References
Writer Bio
Nina Joiner graduated from the University of South Alabama with a double major in biology and philosophy. She is now pursuing a doctorate in pharmacy and has been writing since 2001.
Photo Credits
Kodamatobi/iStock/Getty Images