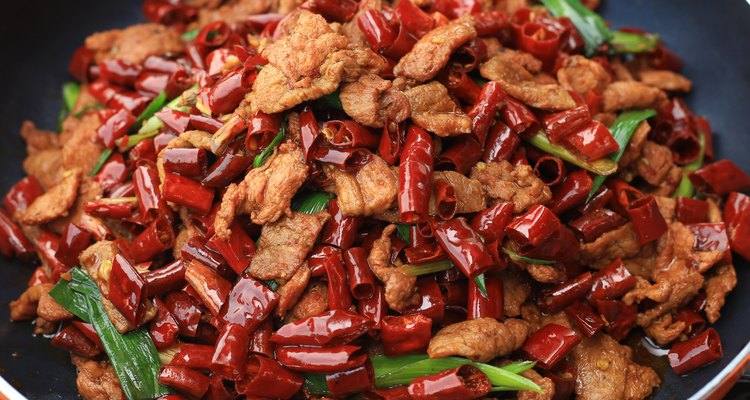 Chinese_elements/iStock/Getty Images
When it comes to steak, there are numerous ways to cook the beef to create different flavors and even textures. When you're in a hurry, or when you want an Asian flare to your steak cut, a wok can be used to both cook the meat quickly, as well as to impart flavors for a stir-fry or multiple other dishes.
Purchase enough steak to feed everyone your cooking for. Buy approximately 3 to 5 ozs. per person, or you can get away with less meat per person, depending on how many vegetables you plan to include in your stir fry.
Slice your steak into thin bite-sized slices. Woks cook at a much higher temperature than other methods that can leave steak rare and bloody on the inside and burnt on the outside. Choose steak cuts based on your dietary preference. Cuts like New York or ribeye are more flavorful, but have a higher fat content. Choose cuts like sirloin for less saturated fat content.
Marinate the steak meat in your favorite marinade. For example, combine 1/3 cup of water, 1/3 cup of brown sugar and 1/3 cup of good quality soy sauce to a sauce pan. Add one minced clove of garlic and 1 tsp. of finely grated ginger to the pan. Bring to a boil, stirring constantly to melt the sugar. Bring the heat down to a simmer and reduce the sauce down until thick. Place the sauce in the refrigerator to cool. Once cool, place your cut steak into a sealable plastic bag and pour in the marinade. Let it marinate in the refrigerator for 1 to 3 hours.
Take the meat out of the refrigerator 10 to 15 minutes before you cook the steak to allow the meat to come to room temperature for more even cooking.
Heat up the wok for 2 to 3 minutes, even before putting oil in the pan. Pour 1 to 2 tbsp. of oil in the pan. Look for oils with a high smoke point, such as safflower or peanut oil, as lower smoke point oils, such as extra virgin olive oil, quickly break down, burn or smoke. The oil will not take long to heat to the desired temperature.
Cook the steak for only 2 to 3 minutes. Steak can quickly overcook in a wok and become tough. Adjust time as needed, depending on how hot your particular wok gets and whether you want some pink left in your meat or brown all the way through.
References
Writer Bio
Chris Sherwood is a professional journalist who after years in the health administration field and writing health and wellness articles turned towards organic sustainable gardening and food education. He now owns and operates an organic-method small farm focusing his research and writing on both organic gardening methods and hydroponics.
Photo Credits
Chinese_elements/iStock/Getty Images