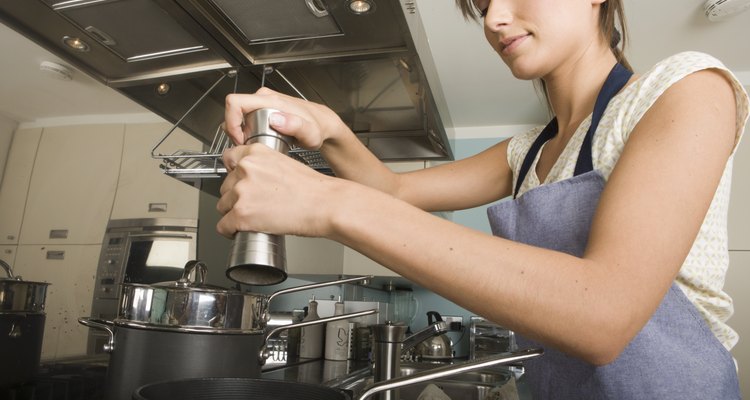 Adam Gault/Digital Vision/Getty Images
Lima beans are a good source of protein, offering 14.7 grams per cup. These protein-rich beans only provide 216 calories, and around 0.7 grams of fat. Despite their nutritional benefits, the somewhat bitter taste of lima beans isn't for everybody. If you want a sweeter source of low-fat protein, you can cook butter peas instead of fully grown lima beans. According to the cookbook "Nathalie Dupree's Southern Memories: Recipes and Reminiscences," butter peas are small lima beans, packed with a sweeter flavor than mature lima beans. Cooking butter peas requires a few basic kitchen items and less than an hour of your time.
Boil 3 cups of water in a saucepan.
Add freshly shelled butter peas and 1/2 stick of butter to the water. Depending on the grocery store you frequent, butter peas are often sold as butter beans or baby lima beans. Use a vegetable oil-based imitation butter spread for fewer calories added.
Reduce heat to medium-low and cover the saucepan.
Simmer for 20 to 30 minutes, until the beans are tender but not mushy.
Remove the beans with a slotted spoon and place them in a serving bowl.
Cover the serving bowl with a plate or kitchen towel to keep the beans warm, and simmer the buttery water for another 5 to 10 minutes until only a thin layer of water remains.
Cover the lima beans with the reduced buttery liquid.
Add salt and pepper to taste.
References
"The Complete Book of Nutritional Healing: The Top 100 Medicinal Foods and Supplements and the Diseases They Treat"; Deborah Mitchell; 2008
"Nathalie Dupree's Southern Memories: Recipes and Reminiscences"; Nathalie Dupree, et al.; 2004
Writer Bio
Richard Kalinowski began writing professionally in 2006. He also works as a website programmer and graphic designer for several clients. Kalinowski holds a Master of Fine Arts from Goddard College and a Bachelor of Science in education from the University of Wisconsin-Whitewater.
Photo Credits
Adam Gault/Digital Vision/Getty Images