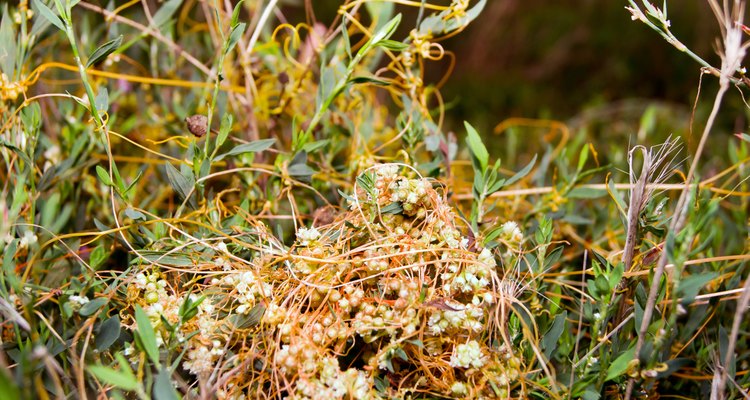 dadalia/iStock/Getty Images
Cuscuta, more commonly known as the Dodder plant, is a parasitic vine that invades other plants for sustenance. Cuscuta has a high level of flavonoids giving it strong antioxidant properties. It has been found to have positive effects on reproductive health, osteoporosis and alopecia, which is hormonal-induced baldness. Nonetheless, consult a health care professional before self-treating with herbal remedies.
Osteoporosis
In a June 2010 article appearing in "Phytotherapy Research," drynol cibotinis, a newly developed botanical combination including Cuscuta chinensis was investigated for its therapeutic benefits for treating osteoporosis. Each of the botanicals in this mixture has been used in traditional Chinese medicine to treat osteoporosis. The researchers assessed the effects of drynol cibotin on cell growth, programmed cell death, calcium uptake and production of bone matrix proteins. The results showed that drynol cibotin significantly increased cell proliferation and inhibited cell death in osteoblasts, which are bone cells. In addition, the researchers found that drynol cibotin promoted calcium uptake and significantly increased production of two key extracellular matrix proteins in bone cells: collagen I and laminin B-2. The authors concluded that drynol cibotin either alone or in combination with amino acids and vitamins may have therapeutic potential for osteoporosis.
Dosage for Osteoporosis
The February 2009 issue of the "Journal of Medicinal Food" included a study that investigated whether an aqueous extract of the seed of Cuscuta chinensis could induce osteogenic activity in human osteoblast-like cells. The authors of the study found that treatment mildly promoted the proliferation of cells at doses between 500 and 1,000 µg/mL. Further, dose-dependent increases in collagen synthesis occurred at 48 and 72 hours of incubation with Cuscuta. Mineralization in the culture of cells was significantly increased at this dosage. The authors concluded that Cuscuta enhanced collagen synthesis and mineralization in the cells. Their results showed that C. chinensis could play an significant role in osteoblastic bone formation and may lead to the development of bone-forming drugs.
Alopecia
Alopecia, or hair loss, is an androgen-driven psychologically distressing condition, which affects millions of men and women. In an article appearing in the September 2008 issue of the "Journal of Cosmetic Dermatology," researchers evaluated Cuscuta reflexa for hair growth activity in test animals with alopecia. The authors used a petroleum extract of C. reflexa on albino mice with testosterone-induced alopecia for 20 days. Its inhibitory abilities were evaluated by follicular density and microscopic observation of skin sections. The study found that the extract exhibited promising hair growth activity as reflected in follicular density and skin section observation. Inhibition of enzymatic activity suggested that the extract reversed androgen-induced alopecia by inhibiting conversion of testosterone to dihydrotestosterone.
Male Infertility
The March 2006 edition of the "Chinese Archives of Traditional Chinese Medicine" documented the damage caused by reactive oxygen species, ROS, to human sperm and the mechanism by which Cuscuta japonica can treat male infertility. Sperm cells with normal physiological function were selected and different concentrations of extract were incubated with sperm in the ROS environment. The cells' integrity was calculated and the sperm structure was observed. The authors found that extract from C. japonica can significantly protect the sperm cell membrane, as well as its structure and the cellular function from the damage caused by ROS.
References
Writer Bio
Sam Lupica began scientific writing in 2007, specializing in physiology, toxicology and reproductive biology. He teaches chemistry and biology, and has published several journal articles in "Aquaculture Research" as well as informational articles in online publications. Lupica is finishing a Ph.D. in medical science and has a Master of Science in physiology and pharmacology from the University of Toledo College of Medicine.
Photo Credits
dadalia/iStock/Getty Images