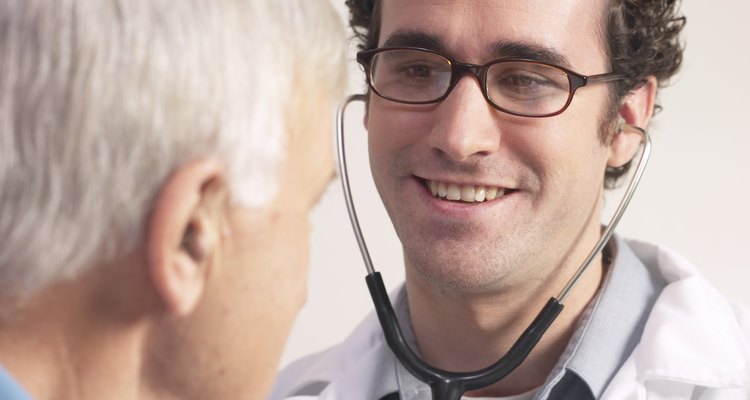 Hemera Technologies/AbleStock.com/Getty Images
Hair loss devastates some, but even at best it is an unwelcome event. According to the American Hair Loss Association, an education and research group, 85 percent of men suffer hair loss as they age, and 40 percent of women experience hair loss as well. The topical solution Rogaine can help counter this effect.
History
Minoxidil, the active ingredient in Rogaine, initially treated high blood pressure. But doctors discovered an unusual side effect—it caused hair to grow in men. In 1988 Rogaine was approved by the Federal Drug Administration (FDA) for hair re-growth treatment in men, and in 1992 for women. It was approved for over-the-counter sale for both men and women in 1996.
Difference Between Men and Women's Rogaine
Initially, men and women's formulas were identical, each containing two percent minoxidil. But in 1997 a stronger formula was introduced for men, with a five percent concentration.
Why the Difference?
The two percent solution effectively grew more hair in women than in men, so a stronger formula was developed for men. Research is currently underway to determine if the stronger formula will also be available to women.
How Does It Work?
Rogaine soaks into the scalp and revitalizes the follicles that stimulate hair growth. With the exception of minor itching, there are few side effects. Some women, however, report minor facial hair growth.
Hair Loss Facts
Male pattern baldness can begin as early as the late teens, with most men experiencing some hair loss by age 50. Many women begin to notice hair loss in the post-menopausal years. Early treatment brings the best results.
References
Writer Bio
Jeff Fulton is a writer specializing in business, travel and culture. He has worked in international sales, customer relations and public relations for major airlines, and has written for Demand Studios since May 2009. Jeff holds a Bachelor of Science in journalism from Northwestern University and a Master of Business Administration in marketing from the University of Chicago.
Photo Credits
Hemera Technologies/AbleStock.com/Getty Images