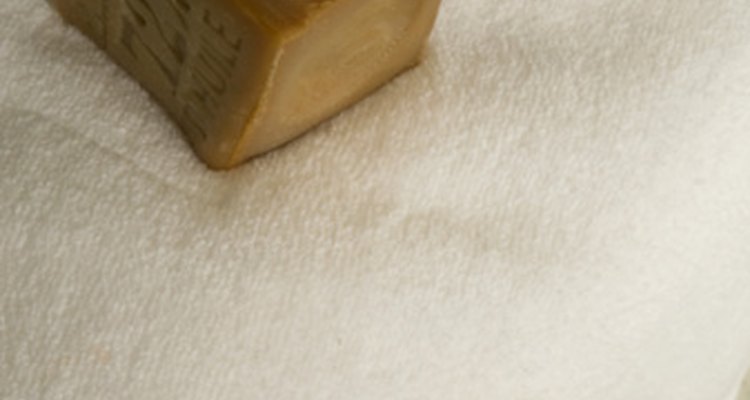 Jupiterimages/Photos.com/Getty Images
In 1948, the Dial corporation created a sensation with Dial soap, which eliminated body odor caused by the interaction of bacteria with the skin. Black soap, a product native to the sub-Sahara region of western Africa, also enjoys a reputation for its skin treatment properties. However, black soap does not work the same way as antibacterial soap.
Black Soap
Black soap has many names: African black soap, anago soap, alata simena or ose dudu, according to Treehugger. Ose means "soap" while dudu means "black" in the Anaga, Yoruba and Anago languages, according to Jeanne Egbosiuba Ukwendu, writing for Bella Online. Depending on where it is manufactured, black soap contains leaves and bark from plantains, shea tree bark, cocoa pods or palm tree leaves. The leaves and bark are sun dried and then slow-roasted in a kettle or pot, then various oils, including coconut oil, shea butter and palm kernel oil are stirred into the mixture. The soap is then allowed to cure for at least two weeks before it is ready for use.
Black Soap Benefits
Black soap enjoys a reputation for improving or eliminating uneven skin tone, razor bumps caused by ingrown hairs, acne and skin rashes. You can use black soap on your body, face or on your hair as a shampoo. Black soap may reduce the visible signs of wrinkles, Egbosiuba Ukwendu writes. Black soap made with shea butter offers protection against UV rays while black soap made with plantains contains a high concentration of iron along with vitamins A and E, Treehugger states.
Antibacterial Soap
Antibacterial soaps contain either triclocarban, triclosan or both. These ingredients kill bacteria on surfaces, including human skin, according to General Chemistry Online!. Since the mid-1990s antibacterial soaps and sanitizers have become increasingly popular on the commercial market. Skin sanitizers often have an alcohol base rather than antibacterial ingredients.
Antibacterial Soap vs. Black Soap
Black soap does not actively kill bacteria on the skin. Instead, black soap lifts dirt and dead skin away from the face, body or hair, allowing impurities and the bacteria that accompany them to be washed away from the body, according to Go Ask Alice. Black soap is especially good at exfoliation and deep cleansing, according to Treehugger.
Antibacterial Soap Cautions
Soaps containing triclocarban and triclosan have been an important aspect of hospital sanitation. However, antibacterial products for the home may contribute to resistant strains of bacteria, according to the Centers for Disease Control and Prevention. Alcohol-based sanitizers do not carry such dangers, according to Halden.
Black Soap Cautions
If you are sensitive to caffeine, you may experience a skin reaction to black soap that has a high concentration of cocoa pods, Treehugger cautions. Black soaps made in Africa are often produced with pure ingredients and marketed according to fair trade practices. Black soaps produced in Europe or in the United States may contain artificial ingredients, according to Egbosiuba Ukwendu.
References
Resources
Writer Bio
Chris Blank is an independent writer and research consultant with more than 20 years' experience. Blank specializes in social policy analysis, current events, popular culture and travel. His work has appeared both online and in print publications. He holds a Master of Arts in sociology and a Juris Doctor.
Photo Credits
Jupiterimages/Photos.com/Getty Images