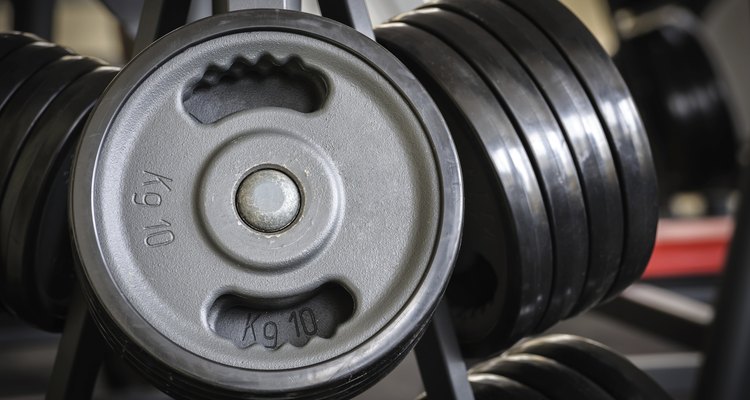 starush/iStock/Getty Images
Large tub of water Cloth rags Borax or Comet Wire brush or steel wool
Wipe the plates down with warm water and a cloth rag. Try to remove any large particles attached to the plates. This type of cleaning should be every week in a commercial gym to reduce germs. A home gym can be wiped down at least once every other week depending upon the amount of dust that settles in your home.
Examine the plates for rust, corrosion, or cracking. Get rid of any plates that are beginning to deteriorate.
Apply a small amount of Borax or Comet with a bit of water to the cloth and rub it over the rust spots. Only add enough water to make rubbing easier. The consistency should be paste-like.
Scrub any stubborn rust spots or debris chunks that are not a part of the weight with a wire brush or steel wool. Apply a small amount of Borax or Comet to cut through the rust. Be sure not to scrub hard enough to remove any coating placed on the weights or to cause a change in shape. Losing pieces of the weight plate can lead to a decrease in mass.
Rinse the plates well and leave them out to dry. Do not stack the plates until they are fully dry as this will just encourage rusting. Use cloth rags to dry the plates if you wish to stack them right away.
References
Tips
Some retailers sell convenient commercial weight cleaning products that can be sprayed onto the plates and wiped off. Things like Simple Green or Orange Clean can help cut the oils left behind by hands.
Warnings
Do not leave metal plates in water to soak as this can encourage rusting. These instructions are meant for traditional weight plates made of iron or other metals. Use only non-abrasive cleaning methods for rubber plates and mild soap and water.
Writer Bio
Sarah Harding has written stacks of research articles dating back to 2000. She has consulted in various settings and taught courses focused on psychology. Her work has been published by ParentDish, Atkins and other clients. Harding holds a Master of Science in psychology from Capella University and is completing several certificates through the Childbirth and Postpartum Professional Association.
Photo Credits
starush/iStock/Getty Images