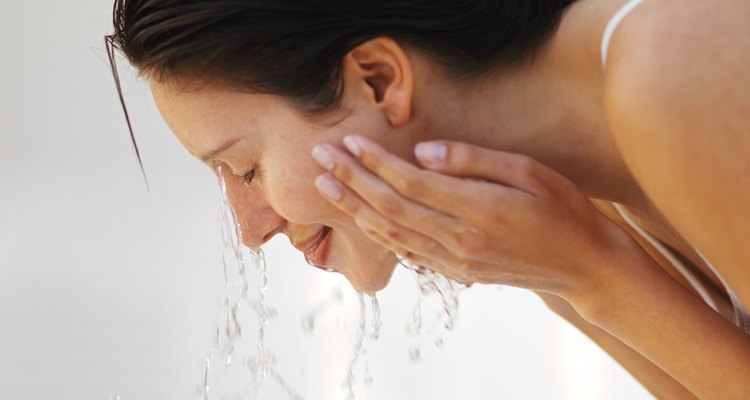 Stockbyte/Stockbyte/Getty Images
For those with oily skin, or for most anyone in hot and humid climates, oil buildup can occur on the face throughout the day, creating clogged pores and blemishes when mixed with sweat, makeup and particles from the air. To prevent the negative effects of oil buildup, utilize daily products that manage oil buildup without excessively drying out the face.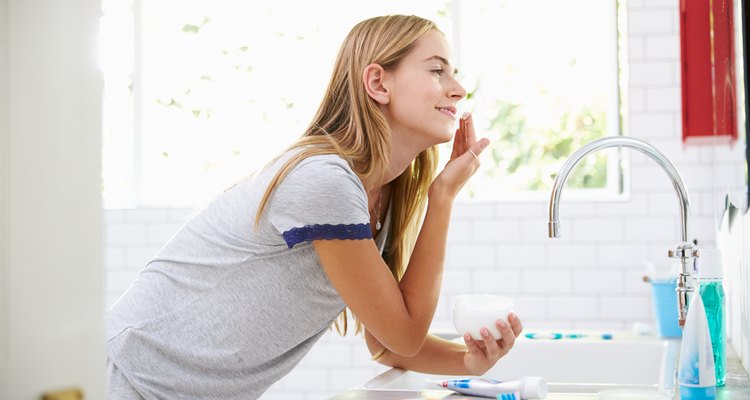 monkeybusinessimages/iStock/Getty Images
Wash your face in the morning with a gentle cleanser. Choose a product that is free of harsh astringent sulfates that can dry your face to excess.
Use an alcohol-free toner that contains anti-inflammatory ingredients such as vitamins and other antioxidants after washing your face.
Exfoliate your skin to help clear dead skin cells and clogged pores. Many exfoliators contain compounds such as salicylic acid that help to decrease oil production in your skin.
Apply a light, oil-free moisturizer with sunscreen before heading out for the day. Mattifying formulas or gel-based formulas are ideal for oily skin, and heavy creams should be avoided. Sun protection and hydration are important elements of any skin care routine.
Select an oil-free liquid formula foundation to minimize oil buildup from your makeup.
Apply a mattifying powder over your makeup and/or moisturizer. If you don't wear makeup, choose a colorless loose powder to help keep your face free of shine.
Carry blotting papers with you to blot oil from your face throughout the day.
Cleanse, tone, exfoliate and moisturize again at night before bed, as in steps 1-4. If incorporating a makeup remover, be sure to use an oil-free formula. Replace a moisturizing sunscreen with a light moisturizing gel.
References
Resources
Tips
Diet can also help you to manage oily skin. Eat a diet full of fruits, vegetables and other foods rich in vitamin A and antioxidants. This will help to minimize your pores and your skin's oil production.
Writer Bio
Aiden Summer is a creative production consultant for artists, architects and designers.
Photo Credits
Stockbyte/Stockbyte/Getty Images