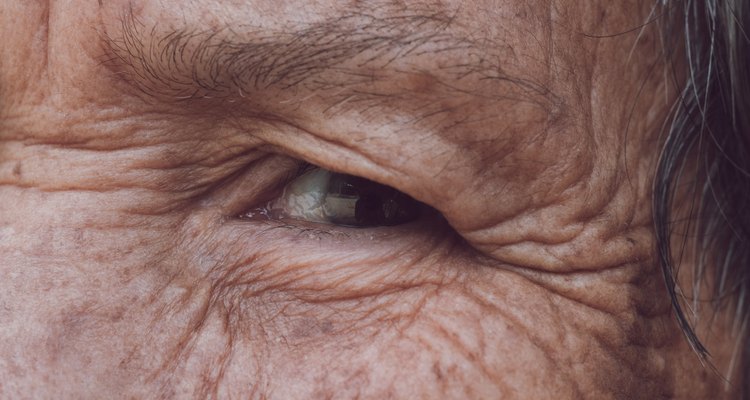 tuk69tuk/iStock/Getty Images
Skin becomes thinner and more fragile with age. In fact, elderly skin is prone to moisture loss, sagging and an increase in wrinkles. Dry, itchy skin is common in the elderly and is often the result of conditions such as stasis and exfoliative dermatitis. Caring for elderly skin requires the use of products that will provide protection and help replenish lost moisture.
Shower or bathe your skin two to three times per week using warm water, not hot. Wash with a soap specifically manufactured for use on dry, sensitive skin and rinse well after washing.
Pat your skin dry with a towel after bathing or showering to remove excess water. Apply a moisturizer to your skin immediately afterward while your skin is still damp to lock in moisture.
Apply a sunscreen to elderly skin if you will be venturing outdoors. Use a sunscreen that has an SPF factor of at least 15 and protects skin from ultraviolet A and B rays. This helps protect your skin from burning and prevents certain cancers that are common in aging skin.
Perform daily checks of aging skin. Look for changes in color, size and shape of moles. Report these skin changes to a physician, immediately. Also, check your skin for bruising, peeling, tearing, persistent itching and abnormal growths, which can all be signs of serious illness.
Increase humidity using a humidifier if the air is normally dry. Dry air can exacerbate the moisture loss problems associated with aging skin. Indoor relative humidity levels between 30 and 50 percent are ideal, explains Illinois Department of Public Health.
References
Resources
Tips
Glycerin soaps and those that contain moisturizing creams are ideal for your skin type.
The best time to wash and apply moisturizer is right before bed. Protect aging skin by slipping on a pair of socks and cotton gloves after moisturizing. The socks and gloves will keep your feet and hands stay hydrated and prevent the moisturizer from rubbing-off on your sheets at night.
When applying the sunscreen, pay careful attention to the skin around your ears, face, hands and arms.
Warnings
Try not to scratch dry, itchy skin. Scratching can tear your fragile skin leaving you vulnerable to infection.
Writer Bio
Jonae Fredericks started writing in 2007. She also has a background as a licensed cosmetologist and certified skin-care specialist. Jonae Fredericks is a certified paraeducator, presently working in the public education system.
Photo Credits
tuk69tuk/iStock/Getty Images