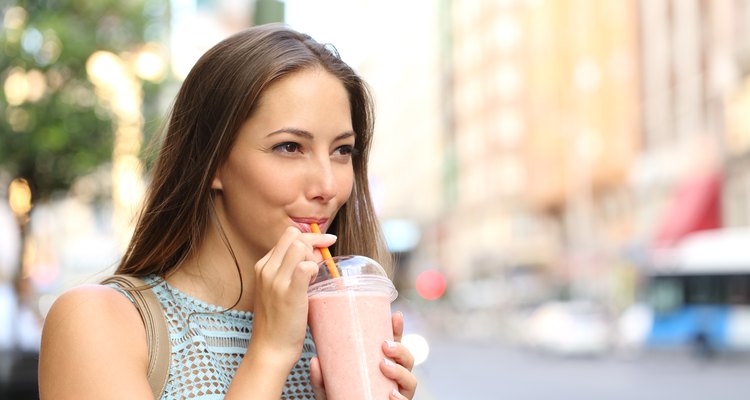 AntonioGuillem/iStock/GettyImages
Yummy, Filling Meals With Only 300 Calories
Counting calories is not always easy when you're trying to track data while at work and while dealing with your kid's after-school schedule. This may be why you keep getting messages from your fitness app wondering where you've been. Instead of beating yourself up over your inability to write down every morsel of food that passes your lips into your phone, keep a list of go-to meals that fit into your reduced-calorie meal plan. Eating three planned 300-calorie meals, plus two healthy snacks, might be the easy weight-loss plan that finally helps you drop extra weight.
1. On-the-Go Breakfast Sandwich
When limited to 300 calories per meal, managing hunger from meal to meal may be tough. To soothe a rumbling stomach, make sure you have a nice serving of protein at each meal. Spray a microwave-safe cup with spray oil, crack an egg into the cup and cook in the microwave for 1 minute. Meanwhile, toast a whole-wheat English muffin in your toaster. Place the cooked egg on the muffin and top with 1 ounce of low-fat cheese. Place under the broiler or back in the microwave for a few seconds to melt the cheese. Top with the other half of the English muffin. This breakfast sandwich has about 290 calories.
2. Very Berry Smoothie
Use Greek yogurt in your smoothies to up the protein content. In your blender, add 1 cup of strawberries, 1 cup of blueberries and 1 cup of raspberries with 3/4 cup of low-fat Greek yogurt and ice. Blend until combined. This take-with-you breakfast has about 300 calories.
3. Very Veggie Chicken Soup
Soup is a very comforting food. So, it not only fills your physical hunger, but your emotional hunger as well. This is the kind of soup you're going to want to make in large batches as an easy-reheat meal when hunger strikes. In a large saucepan over medium heat, saute chopped onions and zucchini in a small amount of oil until soft. Add chicken broth, chopped plum tomatoes, chopped cooked chicken breast and orzo. Cook until orzo is soft, about 8 minutes, and then add spinach. A 2-cup serving of this dish has about 260 calories. Add a 1/2-ounce slice of crusty whole-grain bread to top off the meal for an additional 40 calories.
4. Baked Potato With Chili
According to the European Union Food Information Council, potatoes are one of the most filling foods. Keep cooked baked potatoes in the refrigerator for an easy start to any meal. Top a medium-sized cooked baked potato, about the size of 2 golf balls, with 1/2 cup of chili, which has 290 calories. To save calories and leave room for 1/2 cup of steamed broccoli, top your baked potato with turkey chili instead of beef. With the broccoli this meal has about 300 calories.
5. Grilled Shrimp and Veggies
High in protein and low in calories, about 10 calories per shrimp, grilled shrimp and veggies makes a good choice for dinner. Cut zucchini, yellow squash, eggplant and beefsteak tomatoes into thick rounds, drizzle with oil, and season with salt and pepper. Place on a grill or grill pan and cook until soft, about 15 minutes. Thread shrimp on skewers that are safe for the grill or grill pan, brush with oil, season with salt and pepper and cook for 2 to 3 minutes on each side. Serve with a chimichurri sauce made with fresh basil, garlic, lemon juice and olive oil. Ten shrimp, 2 cups of veggies and 1 tablespoon of sauce has about 300 calories.
6. Steak, Peppers and Onions
Flank steak is a lean cut of meat. Marinating it helps make it tender. In a small saucepan over medium heat, simmer red wine, crushed red pepper flakes, fennel seeds and thyme until reduced to about 3/4 cup, take off heat and let cool. Place your flank steak in a zippered plastic bag, pour in wine sauce and let marinate in the refrigerator for at least 4 hours. Roast thickly cut red onions and peppers seasoned with oil, balsamic vinegar, salt and pepper in a 400-degree Fahrenheit oven for 30 minutes, or until soft. On a hot grill, cook your flank steak 5 to 6 minutes on each side. Let rest and cut against the grain. This meal has about 300 calories with 3 ounces of meat and 1 3/4 cups of veggies.
References
Writer Bio
Jill Corleone is a registered dietitian and health coach who has been writing and sharing her love of food, nutrition and health with anyone who'll listen for almost 20 years. Her work has been featured on the Huffington Post, Diabetes Self-Management and Working Mother.