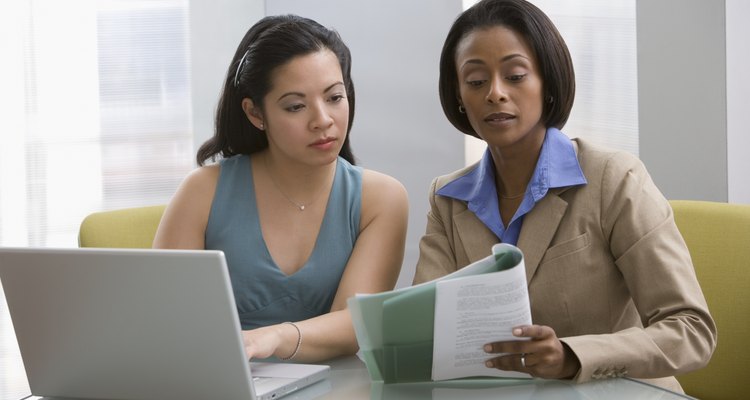 Jose Luis Pelaez Inc/Blend Images/Getty Images
Verbal communication refers to the use of sounds and language to relay a message. It serves as a vehicle for expressing desires, ideas and concepts and is vital to the processes of learning and teaching. In combination with nonverbal forms of communication, verbal communication acts as the primary tool for expression between two or more people.
Types
Interpersonal communication and public speaking are the two basic types of verbal communication. Whereas public speaking involves one or more people delivering a message to a group, interpersonal communication generally refers to a two-way exchange that involves both talking and listening.
According to Robert M. Krauss, professor of psychology at Columbia University, signs and symbols are the major signals that make up verbal communication. Words act as symbols, and signs are secondary products of the underlying message and include things like tone of voice, blushing and facial expressions.
Purpose
Verbal communication has many purposes, but its main function is relaying a message to one or more recipients. It encompasses everything from simple one-syllable sounds to complex discussions and relies on both language and emotion to produce the desired effect. Verbal communication can be used to inform, inquire, argue and discuss topics of all kinds. It is vital to teaching and learning, as well as forming bonds and building relationships with other people.
Although all species communicate, language itself is a purely human phenomenon that allows for more precision than the communication methods of other beings.
Challenges
A variety of challenges may arise when using verbal communication to express oneself. Misunderstandings can arise because of poor word choice, differing perspectives and faulty communication techniques, and subjective opinions regarding acceptable language may result in breakdowns in communication.
Language barriers are a major cause of confusion when attempting to communicate verbally. According to the University of Louisville, differences in language influenced by geographic location, education and social status can create barriers even among those who speak the same language.
Prevention/Solution
Although difficulties with verbal communication can't be completely avoided, it is possible to increase your chances of communicating successfully. Consider the message you wish to communicate before speaking and communicate with respect for the recipient's point of view Pay attention to what you say and how you say it. Speak clearly and enunciate your words and be conscious nonverbal aspects such as eye contact, posture and facial expressions.
Considerations
Everyone has a unique style of communicating and perceiving messages. Although verbal communication is a primary means of expression, nonverbal actions such as body language can greatly affect the way a message is perceived.
References
Writer Bio
Based in Las Vegas, Tracii Hanes is a freelance writer specializing in health and psychology with over seven years of professional experience. She got her start as a news reporter and has since focused exclusively on freelance writing, contributing to websites like Wellsphere, Education Portal and more. She holds a Bachelor of Arts in communication arts from Southwestern Oklahoma State University.
Photo Credits
Jose Luis Pelaez Inc/Blend Images/Getty Images