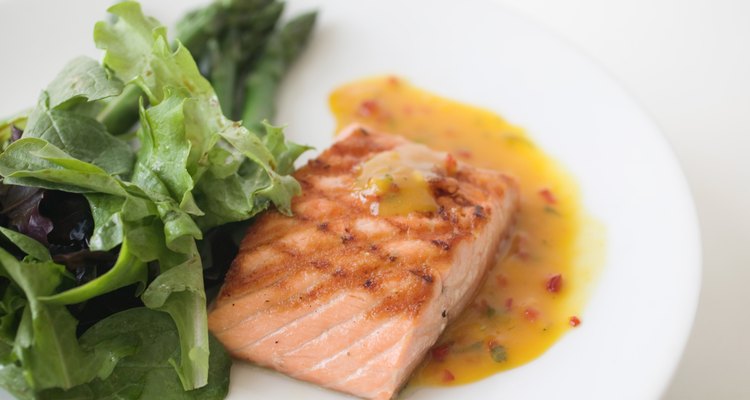 Creatas/Creatas/Getty Images
You should find two days a week in your meal plan for fish such as salmon, reports The American Heart Association. Salmon, an excellent source of protein, isn't high in saturated fats like red meats, even though it's naturally fatty. Most recipes call for the addition of butter to keep salmon moist while it's cooking. But you can use any one of a number of ways to make a succulent salmon dish without slathering it in butter.
Give It a Bath
Poaching doesn't require any oil or fat, and you still have a tender, moist fish when it's done. You can poach salmon steaks, but it's more suitable for fillets. To poach, cover the fish with just enough liquid and allow it to cook at a slow simmer until done, which usually takes about 10 minutes. Instead of just water, poach your salmon in milk, wine, fish or vegetable stock, or lemon and herb-infused water.
Toss It on the Grill
Grilled salmon has a smoky flavor and crispy crust. This dry-heat cooking method is ideal for thick fillets, whole salmon and salmon steaks with their skin. The skin keeps your salmon from sticking to the grill, but you still need something slick to keep it from sticking under high heat. Brush the salmon with a light coating of olive oil or spray your grill with a grill-safe cooking spray. Rub your salmon with your desired seasonings or marinate the fish before grilling. Use medium-high heat and grill until the flesh is pale pink and flakes easily.
Bake It Up
When baking salmon, most cooks use butter, but you can substitute with olive oil, another cooking oil or an oil-based cooking spray. If you're cooking a skin-on fillet, you can bake your fish with no oil. Seal your fillets in foil and add lemon slices, herbs and salt and pepper. Place your wrapped fish on a baking sheet in a preheated 400 degree Fahrenheit oven. Cook for 10 to 20 minutes -- depending on the size of your fillet -- until the flesh flakes easily in the center.
Give It a Steam Bath
Steamed fish doesn't need oil or butter to maintain its moist texture. Reserve this method for thinner cuts of salmon with or without their skin. Any steamer will work, including a homemade version using a stockpot with an insertable steaming rack at the bottom. Use just enough water to cover the bottom of the pot and never let the water come into contact with your fish. Steam the fish until it flakes easily and the flesh is pale pink in color. You can season your steaming liquid with lemon juice and herbs to incorporate flavor while your fish is cooking.
References
Writer Bio
Shailynn Krow began writing professionally in 2002. She has contributed articles on food, weddings, travel, human resources/management and parenting to numerous online and offline publications. Krow holds a Bachelor of Science in psychology from the University of California, Los Angeles and an Associate of Science in pastry arts from the International Culinary Institute of America.
Photo Credits
Creatas/Creatas/Getty Images