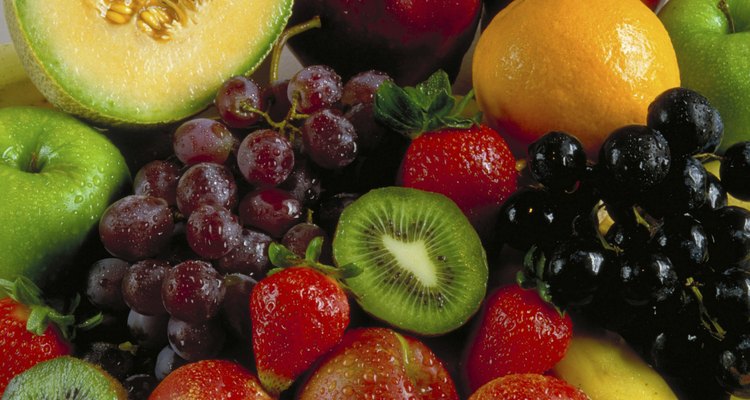 Ablestock.com/AbleStock.com/Getty Images
You have a lot of choices when it comes to pectin, but only two you need to know: low-methoxyl pectin, also known as no-sugar pectin, and high-methoxyl pectin, also known as dry-regular pectin. You find dry-regular pectin in just about any processed food that contains a lot of sugar because it binds with glucose to thicken. No-sugar pectin binds to calcium, but only 10 to 30 milligrams -- less than a tablespoon of milk -- making it the best choice when thickening savory sauces. Pectin is a good alternative to starch-based thickeners, too. It doesn't alter the taste and only needs about one minute to work.
Step 1
Cook the sauce until it's at the point you need to adjust the consistency, usually within the last 15 minutes of cooking, and season it to taste. You season before adding the pectin because the flavors won't concentrate like they do with reduction-thickening or roux-thickening. You also have to turn the heat off almost right after you add the pectin, which doesn't give you much time to season to taste.
Step 2
Add 3/4 tablespoon of no-sugar pectin for every cup of sauce to the saucepan. Add 2 tablespoons of milk if the sauce doesn't contain dairy products.
If you have a sweet sauce such as a dessert topping, add 2 tablespoons of dry-regular pectin for every cup of sugar used in the sauce.
Step 3
Whisk or stir the pectin into the sauce and bring the sauce to a boil.
Step 4
Boil the sauce for one full minute and turn the heat off. Stir the sauce vigorously to distribute the pectin as it gels, maybe one minute. Let the sauce cool for a minute. The pectin fully thickens the sauce when it cools to between 104 and 158 degrees Fahrenheit.
References
Warnings
You have to boil the sauce for one full minute to activate the gelling properties of the pectin.
Writer Bio
A.J. Andrews' work has appeared in Food and Wine, Fricote and "BBC Good Food." He lives in Europe where he bakes with wild yeast, milks goats for cheese and prepares for the Court of Master Sommeliers level II exam. Andrews received formal training at Le Cordon Bleu.
Photo Credits
Ablestock.com/AbleStock.com/Getty Images