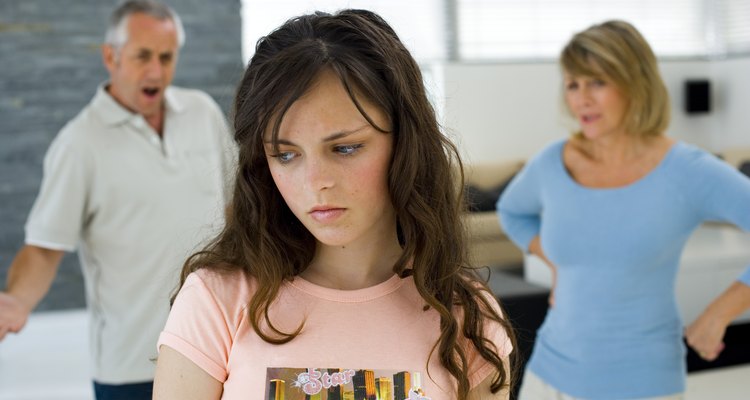 Jupiterimages/Pixland/Getty Images
Just because you don't like your teenager's partner doesn't mean he's a bad person. However, if the signs are there -- he's flunking out of school, using or selling drugs or treating your child badly -- it's your job as a parent to step in. Making demands is likely to backfire because your teen is at an age when it's developmentally appropriate to assert her individuality. Approaching her with love and concern is crucial to persuading her to stop dating a loser.
Step 1
Talk to your teen about what constitutes a healthy relationship. Explain to her that someone who really loves a partner doesn't talk down to her, pressure her to do acts that make her uncomfortable, leave her if she says no to sex or ask her to cut off her friends. If you've been in a relationship with a similar partner, share your experience and explain to her what you lost by being with that person.
Step 2
Invite her to spend as much time as she likes with her partner at your house, in your presence, in a common area. Let her know that a partner who truly loves and respects her will want to spend time with her family -- provided the family treats him well -- then proceed to treat him well. You might have to be nice through your teeth, but chances are the loser won't want to spend much time in your presence anyway. Once she sees that you're nice to him but he's not nice to you, it might open her eyes.
Step 3
Encourage your teen's interests -- besides him, of course. Talk often about the future, let her know you believe in her talent and help her make concrete plans for achieving her goals. An unmotivated, dropout partner might not seem so appealing when she's been touring colleges and talking about careers.
Step 4
Invite her friends over or take them out as a group to do enjoyable activities -- without the loser. Help her stay in touch with the people she loved before her partner came along. If he's really a jerk, other people who love her will let her know, and it might mean more coming from her peers than from you.
Step 5
Seek the help of a trained mental health worker if you believe your daughter is being abused physically, emotionally or sexually. Take her to a family and relationship counselor who can discuss strategies for spotting and breaking free of abuse, while still treating her like an adult and respecting her right to make her own decisions.
References
Writer Bio
S.R. Becker is a certified yoga teacher based in Queens, N.Y. She has a Master of Fine Arts in creative writing and has worked as a writer and editor for more than 15 years. Becker often writes for "Yoga in Astoria," a newsletter about studios throughout New York City.
Photo Credits
Jupiterimages/Pixland/Getty Images