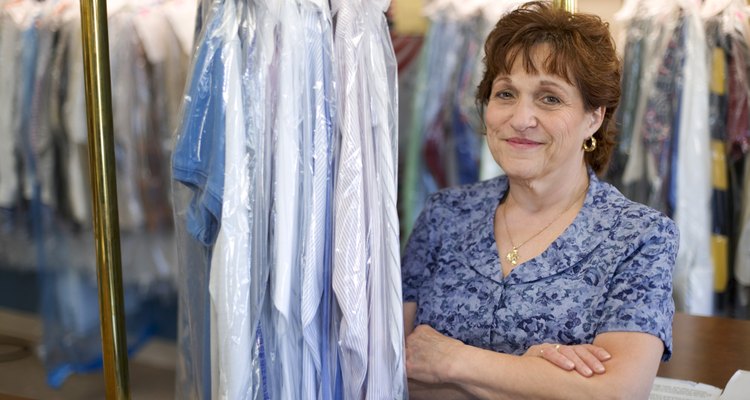 Creatas/Creatas/Getty Images
Founded in 1962, St. John has produced luxury knit clothing that is still popular today. Designer Marie Gray and her husband, Robert, have turned the brand into couture, worn by celebrities such as Angelina Jolie. The Grays are still involved in every aspect of design, using fine wool from Australia and employing a chemist to create the company's innovative use of color.
Cleaning St. John Knitwear
St. John recommends that all clothing from the company be dry cleaned only. Separate pieces in an outfit should be cleaned at the same time to make sure the colors continue to match. St. John also recommends that clothing be dry cleaned before storing. Skin oils, deodorants and perfumes remaining on the material can attract insects. If white clothing appears gray, the problem may be dirty dry cleaning chemicals. Use a trusted dry cleaner who is used to dealing with St. John knits. The problem can be corrected by being cleaned in the first batch of the day. St. John's colors can bleed if something is spilled on the garment. Always blot the liquid and rinse with cold water. Blot again and get the clothing to the dry cleaners soon. Never try to get the stain out yourself using cleaners.
Storing St. John Knitwear
Always hang St. John clothing on padded hangers. Wire hangers can ruin the shape. Pants and skirts should be hung facing front if flat front, and from pleat to pleat if pleated. Jackets should be hung with shoulder pads in place. More casual clothing can be stored flat, especially if it will be stored for a season. If folding the garment, lay two sheets of tissue paper between the fold so that the material does not crease. When traveling, tightly pack the suitcase to prevent wrinkles from movement. When you unpack, hang the clothing up to retain its shape. Wrinkles can be treated by hanging the garment in a bathroom with the shower running. You can also use a damp piece of linen or silk and go over it lightly with the hotel iron. When storing clothing for a long period of time, most dry cleaners recommend using garment bags that breathe and storing them in a low humidity area.
References
Photo Credits
Creatas/Creatas/Getty Images