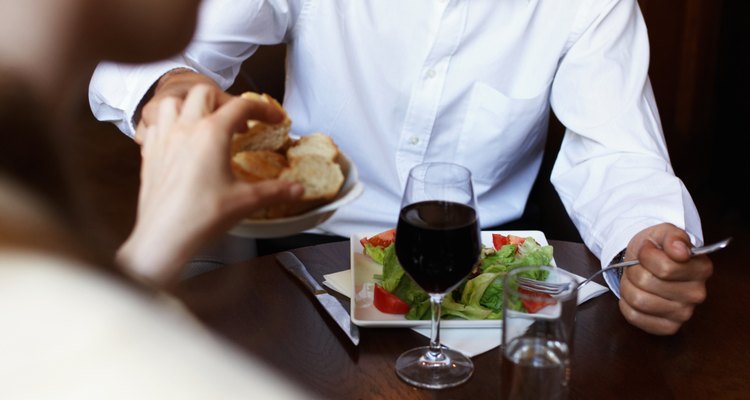 Rayes/Digital Vision/Getty Images
Every marriage is different, every separation is different and every divorce is different. How soon is too soon to start dating again depends on several factors, including your emotional state, your ex-spouse's emotional state and your legal situation. Dating while separated can be just what you need or the last thing you need.
Don't Start a War
You don't want to make your ex angry before the divorce is final, unless you're willing to deal with a protracted battle and a potentially expensive settlement, instead of an amicable no-fault divorce. Your ex might be willing to accept that the marriage just wasn't working out -- the divorce might even be her idea -- but if you start dating before she's ready for it then she can make things very difficult for both of you. If you have children together, it's especially important not to provoke unnecessary conflict with your ex before custody arrangements have been fully worked out. If your relationship with your ex isn't emotionally resolved for both of you, then it's a bad idea to date before the divorce is final.
Don't Scare People Off
If you're still seething with negative emotions about the end of your marriage, it's going to be hard to hide that fact from anyone you're interested in dating. No date wants to hear all about how evil and crazy you think your ex is. Too much negative talk about your ex is unappealing on its own, but it can also make it sound like you hate all women. That's probably not the impression you want to give, so you should hold off dating until you are past the anger and the need to vent.
Don't Rush Yourself
It isn't easy to know how you're going to handle a new relationship until you try. You might believe that you're completely over your ex and ready to meet someone new, only to panic and disappear as soon as the new relationship starts to get serious. That wouldn't be fair to the other person, so be sure to give yourself some time to heal before starting anything serious with a new romantic interest. The longer the marriage was and the more intense the emotions associated with the divorce, the longer you should wait.
When It Works
There are a few situations where it makes sense to start dating before your divorce is final. One is if the relationship has been effectively over for such a long time that both you and your ex have moved on emotionally. Another is if you separated to see whether you wanted to end the marriage or not, and dating other people was part of the arrangement. If that's the case, you'll need to communicate openly and honestly with both your ex and anyone you might be dating to avoid misunderstandings. If the divorce is truly only a formality and the marriage really ended a long time ago, then it can make sense to start dating again as long as you're careful with both yourself and everyone else involved.
References
Resources
Writer Bio
Scott Thompson has been writing professionally since 1990, beginning with the "Pequawket Valley News." He is the author of nine published books on topics such as history, martial arts, poetry and fantasy fiction. His work has also appeared in "Talebones" magazine and the "Strange Pleasures" anthology.
Photo Credits
Rayes/Digital Vision/Getty Images