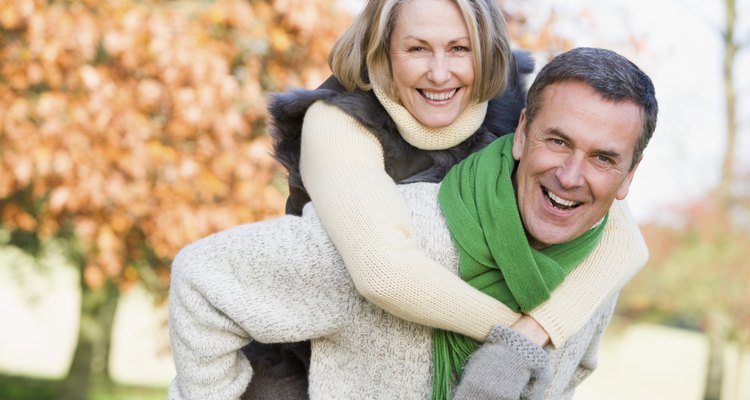 monkeybusinessimages/iStock/Getty Images
It seems by the time you reach your later years, marriage should be smooth sailing – you've navigated life as newlyweds, worked for a good portion of your lives and possibly reared children together. However, seniors face a number of marriage problems that, if not dealt with, can lead to divorce. Among the problems seniors face are communication, establishing new roles in the home, sexual intimacy and health problems.
Communication
Communication can become a problem in senior marriages as couples who might have spent the first part of their marriage working or raising kids now find themselves with more time together. Couples might only argue or fight, have no meaningful conversation or not talk to each other at all. It's important to talk about your individual goals, interests and dreams as well as joint activities and mutual goals. Work together to plan fun activities for your marriage.
Roles in the Home
Another senior marriage problem is establishing new roles in the home, especially when it comes to household tasks. If an agreement isn't reached over who is responsible for specific chores, one spouse or the other might feel resentment. A spouse who has always cared for the home might also feel like the other spouse is interfering with the normal household routine once both are at home on a regular basis. Disagreements over the roles in the home can lead to conflict if they're not discussed and agreed upon. For these reasons, it's important to talk about who will take care of housework, yard work, bills and cooking.
Sexual Intimacy
Sex is another common issue for older married couples. While a number of physical factors – including a decrease in vaginal lubrication, erectile dysfunction, slower sexual response and menopause – can contribute to a decline in sexual activity for seniors, the desire for sex commonly remains. Focus on creating a more intimate atmosphere, more foreplay and seductive touching throughout the day. There are also creams and gels available from medical professionals that can help increase testosterone and estrogen levels.
Health Problems
Senior married couples also face a number of health issues, both physical and mental. Serious health issues can reduce a couple's mobility and opportunities for recreation together outside the home. Marital conflict is especially seen among wives whose husbands are in fair or poor health. Older married couples might face dementia as well as other physical diseases, such as diabetes, arthritis and heart disease. These illnesses can lead to depression and stress for both parties. Marital therapy is one option for senior couples dealing with conflict over health issues.
References
Writer Bio
Tamara Runzel has been writing parenting, family and relationship articles since 2008. Runzel started in television news, followed by education before deciding to be a stay at home mom. She is now a mom of three and home schools her two oldest children. Runzel holds a Bachelor of Arts in communication from University of the Pacific.
Photo Credits
monkeybusinessimages/iStock/Getty Images