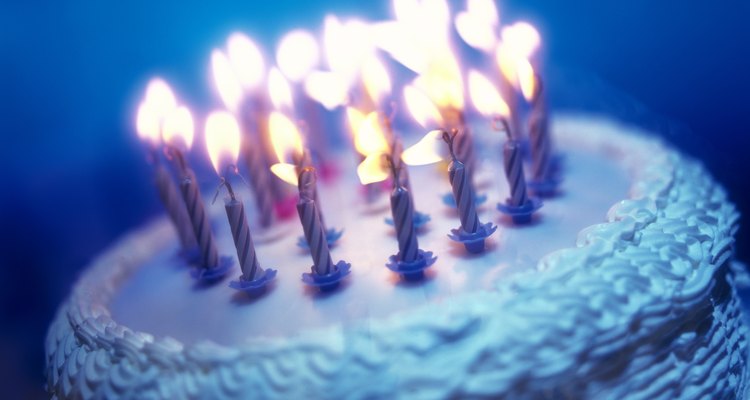 Stockbyte/Stockbyte/Getty Images
With a boxed cake mix, you can whip up a 2-layered birthday cake in no time. First developed in the 1930s, cake mixes are the fast and easy solution when it's time to make a birthday cake. Combine the cake mix with eggs, oil and water, and you're on your way. Just grease the pans well and allow the cakes to cool completely before you frost them. You can slather the frosting on with a knife or use a piping bag for a more decorative look. Even if you've never made a birthday cake before, you can accomplish this in less than two hours -- including cooling time.
Step 1
Preheat the oven according to the package directions. A thoroughly heated oven ensures a moist, light cake.
Step 2
Grease two cake pans with shortening or spray them with a non-stick cooking spray. Sprinkle flour in the pans and shake the pans to evenly coat the surfaces.
Step 3
Combine the cake mix with additional ingredients according to the package directions. Use a glass measuring cup designed for fluids to measure the liquid ingredients. Cake mixes sometimes have a chemical taste caused by artificial flavorings.
Step 4
Mix the cake mix with a stand or hand mixer for 1 minute on low to combine all the ingredients. Mix an additional minute on medium to ensure a smooth consistency, but don't over-mix.
Step 5
Pour the cake batter into the prepared cake pans and bake according to the recipe -- usually 25 to 30 minutes, or until the cake springs back when lightly touched.
Step 6
Place the pans on a cooling rack for 15 minutes. Then, loosen each cake by going around it with a knife. Invert the pans onto the cooling racks to remove the cakes. Allow the cakes to cool for an hour or two.
Step 7
Place one cake on a plate or cake stand. Spread frosting on top of the cake. Place the second cake securely on top of the first cake. Spread frosting on top of the second cake and smooth it gently across the top and over the sides until the entire cake is completely frosted. You can use canned frosting, homemade buttercream or a boiled frosting.
Step 8
Cover the cake with a cake protector or plastic wrap and store it at room temperature for up to two days. If the frosting is soft, chill the cake in the refrigerator before you wrap it to harden the frosting. Wrap and refrigerate cakes that are frosted with perishable ingredients, such as cream cheese or whipping cream.
References
Tips
Add real vanilla, almond or lemon extract, if desired, to make the cake taste more homemade.
Writer Bio
Julie Christensen is a food writer, caterer, and mom-chef. She's the creator of MarmaladeMom.org, dedicated to family fun and delicious food, and released a book titled "More Than Pot Roast: Fast, Fresh Slow Cooker Recipes."
Photo Credits
Stockbyte/Stockbyte/Getty Images