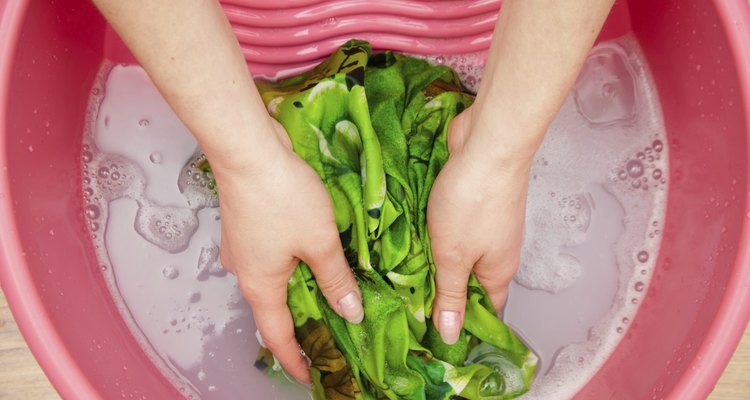 tonivaver/iStock/Getty Images
Dish soap is a smart, economical and environmentally friendly way to wash clothes. It generally contains fewer chemicals than laundry detergent, and costs less to use per load. A little goes a long way though, so if you choose to use dish detergent on your garments, do so wisely -- too much added to the wash and you could have a bubbly mess on your hands.
Machine Wash
To clean a small load of laundry in the washing machine, pour 1 teaspoon of dish soap into the drum before adding clothes or turning it on. For larger loads, use up to 3 teaspoons. Most dish soap is safe for garments as long as it doesn't contain bleach. If you're sensitive to dyes or scents, choose a hypoallergenic brand.
Fighting Stains
Dish soap can also do double-duty as a spot remover. When you get a stain on a favorite cardigan or pair of jeans, rinse it in cold water, rub in dish soap and let the item sit for 15 minutes before washing as usual. Dish detergent is especially good at getting out grease stains since it is formulated to remove food residue from kitchenware.
References
Writer Bio
Ivy Morris specializes in health, fitness, beauty, fashion and music. Her work has appeared in "Sacramento News and Review," "Prosper Magazine" and "Sacramento Parent Magazine," among other publications. Morris also writes for medical offices and legal practices. She holds a Bachelor of Arts in government-journalism from Sacramento State University.
Photo Credits
tonivaver/iStock/Getty Images