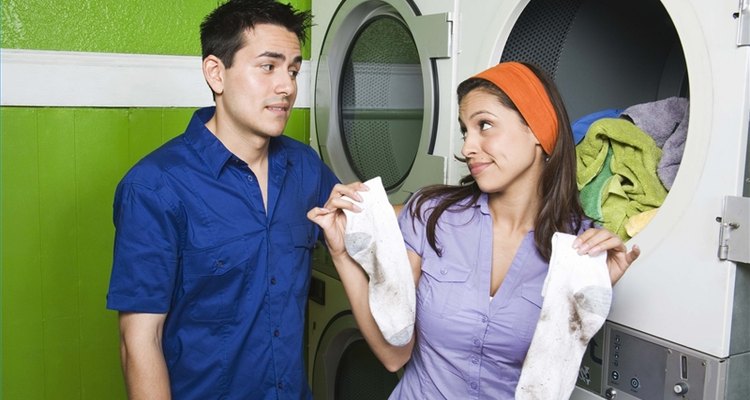 Laundry tends to pile up and no matter if you have it in a bag or bin can start to smell. Follow the steps to learn what you can do to keep your dirty laundry from smelling badly until you can get around to washing it.
Use a fragrant detergent and fabric softener to keep clothes smelling fresh longer. If the clothes smell nicer from the beginning they are more apt to smell nicer after you've worn them.
Place a fabric softener sheet at the bottom of the laundry bag or hamper or throw one in the middle for an extra burst of scent.
Spot treat with a stain remover immediately to clean a stain and help eliminate odors in your laundry bin.
Spray fabrics with a freshener such as Fabreeze to eliminate odors and freshen clothing.
Wash your laundry more often. If your clothing is exceptionally dirty and smelly, wash immediately instead of putting it in the hamper to affect the rest of the load. Get those sports and work clothes washed quicker than normal clothes.
Wipe down or wash your laundry bin or bag from time to time when you notice it smelling. Cloth bags especially can take on the odor of the laundry they hold.
Drop your laundry off at a professional service or hire someone to come do your laundry if you don't have the time, so the clothes don't pile up and cause the room or house to smell.
Writer Bio
This article was written by the CareerTrend team, copy edited and fact checked through a multi-point auditing system, in efforts to ensure our readers only receive the best information. To submit your questions or ideas, or to simply learn more about CareerTrend, contact us [here](http://careertrend.com/about-us).