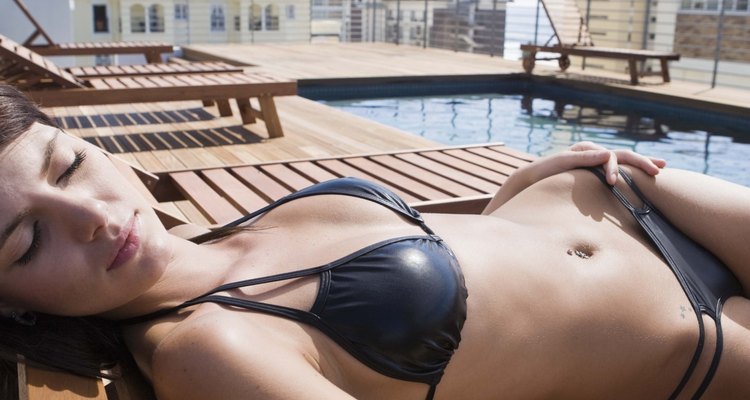 Jupiterimages/Comstock/Getty Images
Many people like to achieve a bronze tan in the summer months, and many new tanning products and methods have been introduced to the market in recent times that make it even easier to get the skin tone you want. Whether you want to use the sun, UV rays, a tanning booth at the salon or many of the different home-application lotions and sprays, you will achieve more satisfactory results if you follow a few simple steps.
Preparation
Check that you don't have any skin concerns before you tan, especially if you plan to tan using the sun or UV rays. Skin discoloration, moles and other blemishes should all be checked by a doctor before you tan.
Exfoliate. To have a better chance of getting an even and golden tan, you need to exfoliate all over your body to remove dry and dead skin cells and make way for fresh, smooth skin.
Moisturize to help keep your skin soft and smooth during the tanning process. Rub a nongreasy moisturizer into all areas of your skin you intend to tan.
Sun and Tanning Beds
Apply appropriate lotions. Purchase a sunscreen with sun protection factor, or SPF, of at least 15 that is ideal for your skin tone and apply liberally to all areas of your body before you tan. It is vital you protect your skin against the sun and UV rays.
Time yourself. If you're tanning in the sun, spend an equal amount of time on your front and back to ensure an even tan all over. Take regular breaks: Follow 10 minutes in the sun or sunbed with 10 minutes in the shade to prevent the sun or UV rays from "cooking" your skin. Letting your skin breathe at regular intervals to develop that smooth bronze look.
Shower under cool water after tanning in the sun or sunbed. Your skin will appreciate the cooling off period and the water will soothe overheated skin. Follow the shower with another application of moisturizer to lock in the tan and give your skin a bronze glow.
Fake Tan
Practice using your fake tan solution before you apply it to yourself. If it's your first time, consider going to a salon and letting a professional show you how to do it. Experiment with home spray tans on an old towel you can throw away to ensure you have the hang of it. Select a small area of skin you can hide for a few days and test your tanning lotion.
Apply evenly using a tanning glove or other recommended applicator. Sweep your hand over your skin in circular motions to ensure an even distribution of color. Let the color set for a few days before applying another layer. Achieving a bronze tan with home lotion and sprays takes time and patience to get the desired tone.
Use a mild soap after tanning. Avoid showering for a few hours to give your tan time to set, then use mild soaps and shampoos to prevent the tan from washing away. After a few days, you can go back to your regular soaps until it's time to apply more.
References
Writer Bio
Lisa Cox is a publishing senior editor who works in both the digital and print industry. She is also a corporate editor and writer for media companies, as well as a medical/scientific writer and developmental editor for universities and medical institutions.
Photo Credits
Jupiterimages/Comstock/Getty Images