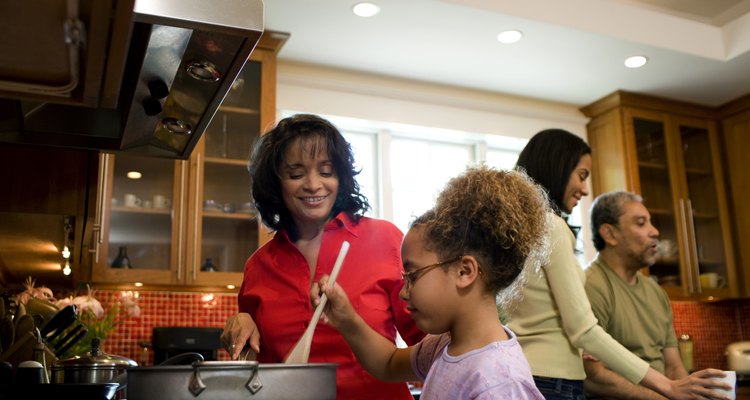 David Sacks/Lifesize/Getty Images
There is no denying the appeal of cooking a meal that takes 30 minutes or less when you are a busy mom with children. You can whip up plenty of quick meals, but brisket is not one of them. Whether you choose to bake your brisket in the oven, smoke it for some barbecue or place it in a slow cooker, you must give your brisket ample time to make it tender. If you cook it too fast, you are going to have one tough piece of meat that your little one is apt to give up on and spit out onto his plate.
Slow Cooker
One of a busy mom's best friends is the slow cooker. Whenever you get some free time in the morning, you can quickly prepare your meal, set the slow cooker for the right time, and go about your day. To make a brisket dinner in a slow cooker, slice some potatoes, and lay them on the bottom of the cooker. Brown your 5 to 6 lb. brisket in oil, and add some onions and garlic if you like. Add enough cooking liquid to cover the meat. You can use a variety of liquids or combine them. Tomato sauce, stewed or crushed tomatoes, beef broth and beer all work well with brisket. Sprinkle the contents of a package of dried seasonings over the meat.Cover your slow cooker, cook on high for five to six hours or on low for eight hours, and enjoy your brisket.
Oven Baked
If you are going to be home with your children on a cold or rainy winter day, there is nothing cozier than to stick a brisket in the oven, and let it cook for hours, allowing everyone to smell the enticing aroma and anticipate the dinner to come. Wolfgang Puck offers a fast way to cook brisket compared to some others you might see; his takes about 2 1/2 hours of cooking time, but he suggests seasoning the brisket first with salt and pepper and refrigerating it for 2 hours before cooking. After heating the oven to 350 F, sear the floured brisket in oil in a Dutch oven. Add foods such as onions, garlic, carrots, leeks or celery and sauté for a few minutes. Puck adds dried apricots to his. Season the meat, add liquid to cover such as beef stock, water, wine or some combination, and cook for 2 1/2 hours. Puck says that you don't want the liquid to boil while the meat is cooking because boiling tightens the meat's fibers, making it tough. The liquid should be at a slow simmer. Your goal is fork tender.
Barbecued
You can barbecue the brisket or get your significant other into the act. To barbecue a nice brisket and get the meat to shred takes at least six hours. Make a rub for the brisket with various spices or dried seasoning mix -- you can let the brisket cure overnight in the refrigerator, but you don't have to. Preheat your grill to low, place the brisket in an aluminum foil pan, cover and smoke it for about six to eight hours. Baste occasionally with the drippings. You can serve the brisket with barbecue sauce, and prepare a nice salad to go with it.
Be Safe
Never leave your brisket out all night unrefrigerated when curing it because bacteria could form. Meat left out at room temperature for more than two hours is unsafe to eat, according to the United States Department of Agriculture. The internal temperature of beef should be 145 F. After cooking, let your brisket rest for at least three minutes before slicing or shredding it. Refrigerate leftovers within two hours.
References
Writer Bio
Laura Agadoni has been writing professionally since 1983. Her feature stories on area businesses, human interest and health and fitness appear in her local newspaper. She has also written and edited for a grassroots outreach effort and has been published in "Clean Eating" magazine and in "Dimensions" magazine, a CUNA Mutual publication. Agadoni has a Bachelor of Arts in communications from California State University-Fullerton.
Photo Credits
David Sacks/Lifesize/Getty Images