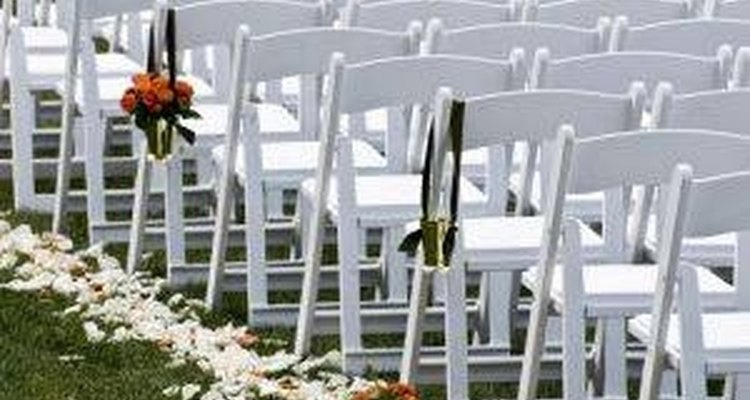 bjearwicke | sxc.hu/bjearwicke
Etiquette is a crucial issue in planning a wedding. It should come as no surprise that etiquette for wedding ceremony seating is another necessary planning step. While etiquette for wedding ceremony seating was once a seemingly easy issue, recent trends have complicated the process. In general, however, these etiquette tips based on "The Everything Wedding Etiquette Book" (Emily Ehrenstein et. al.) should make an easy job of wedding ceremony seating.
Choosing Sides
In a traditional Christian ceremony, the bride's family typically sits on the left side of the church, or on the right side for Jewish ceremonies. In a civil ceremony, seat people on the side on which you will stand during the wedding ceremony.
Parents
Traditionally, parents of the couple sit in the first row. It is acceptable to seat the parents in the second row if the attendants will be seated during the ceremony.
Divorced Parents
If the parents are divorced, the mother should be seated in the front row with whomever she chooses. The father should then sit in the second row. If the divorced parents are on bad terms, the father should sit several rows back.
Close Family
Siblings and grandparents should be seated in the second row or directly behind the parents.
Seating Order
Proper wedding rules indicate that guests will be seated by an usher on a first-come basis. The usher should seat guests from front to back starting at the row behind where the family will be seated.
Writer Bio
Heather Rutherford has enjoyed writing professionally since 2004. Her articles have appeared in ModernMom.com, DailyLife.com, ParentsHut.com, Trails.com and On-the-News. She also works intimately with several small businesses to prepare business plans and other marketing materials. Rutherford is seeking an Associate of Arts in business from North Idaho College.
Photo Credits
bjearwicke | sxc.hu/bjearwicke