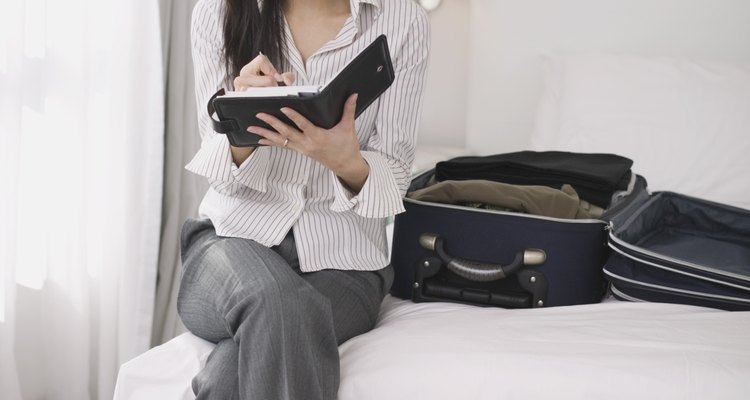 Jupiterimages/Brand X Pictures/Getty Images
Some people's jobs depend on their ability to pack up and head for the airport, sometimes without much warning. While the traveling spouse sets off for work somewhere on the globe, the home-bound spouse maintains family routines until the traveler returns to home base. When you understand how travel schedules and time away from home affect married life, you can take action to mitigate their impact.
Pros
In the spouse's absence, the stay-at-home partner may have more time to visit with friends and family, or even to watch a favorite television show without interruption. Although business trips can be tiring, they can also bring professional satisfaction and a sense of accomplishment. The authors of "Stress and Quality of Working Life" found that positive energy in the traveling partner passed to the spouse. When non-traveling spouses are well-informed about the traveler's schedules and activities, couple communication levels are high, which contributes to a positive crossover effect of the traveler's enjoyment of work onto the non-traveler.
Cons
A large total number of days away from home, sudden changes in travel schedules and missing family celebrations cause stress in both the traveler and the non-traveler, noted Helen Frick, manager of staff services at the World Bank, in a symposium on work-life balance for business travelers. Risky travel destinations, such as Africa, could be a source of distress for both partners. Travelers feel isolated from their families while away, sometimes unable to help their partners make important decisions. The repeated separations and reunions can make it difficult to establish stability in the marital relationship, found a study published in "Occupational and Environmental Medicine."
Difficulties upon Re-Entry
It might be hard for the non-traveling spouse to allow the traveler to take an active part in household management and child care. Used to handling everything alone, the stay-at-home spouse often finds it is easier to just continue that way. This can prolong the sense of isolation experienced by the traveling spouse even when at home. On the other hand, expecting the traveling spouse to jump right in and participate in household duties immediately after return may backfire; the traveler needs time to recuperate from the stresses of the journey.
Tips
If you are in a relationship where one partner travels for work, you need to continually negotiate the balance between home and work to find a formula that fits your particular marital lifestyle. An article published in "Community, Work & Family" notes that although travelers try to compensate for being away, adjustments should be undertaken by both partners. Make a strategy for decision making when the traveler is away and how to facilitate reintegration at home. Use communication technologies to keep each other informed of all that is happening. Even the smallest details are important in keeping you emotionally connected while physically separated.
References
Writer Bio
With an Master of Science in marital and family therapy, Sheri Oz ran a private clinical practice for almost 30 years. Based on her clinical work, she has published a book and many professional articles and book chapters. She has also traveled extensively around the world and has volunteered in her field in China and South Sudan.
Photo Credits
Jupiterimages/Brand X Pictures/Getty Images