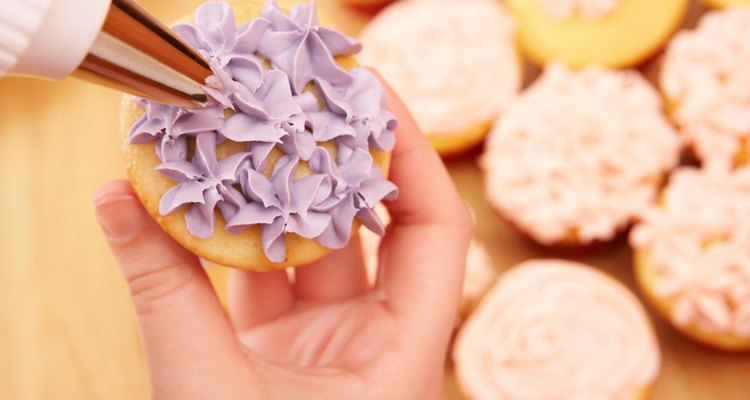 Jupiterimages/Photos.com/Getty Images
You may sometimes turn to canned frosting because of its convenience, but this frosting is dense and laden with sugar. Lightening it up can help reduce the sugar content and calories. With a little effort you can double the volume of a tub of purchased frosting and create fluffy frosting that still retains the flavor of the original.
Whipping the Frosting
The secret to doubling the quantity of frosting is to whip it with an electric mixer for a few minutes. This adds air to the frosting, making it fluffy and creamy. Use a medium or large mixing bowl. Although your frosting will not fill the container, it gives you plenty of room for whipping it to perfection and cuts down on splattering from the mixer.
Adding Coloring
Adding a few drops of food coloring as you whip the frosting allows you to make new colors, too. Think pretty pastels for spring or red or pink for a Valentine's Day cake. During the holidays, red and green feel festive. Other options include whipping a tub of white frosting, separating it into individual bowls and stirring in food coloring to make several colors from one tub of frosting.
Changing the Flavor
Adding flavoring to your frosting during whipping allows you to create a color and flavor combination for special occasions. Think a drop of peppermint in pink or red frosting or coffee or coffee liqueur in brown frosting to add rich flavor to enhance the dessert. Try adding plain cocoa and a scoop of peanut butter before whipping to give your guests a surprise or add cream cheese for carrot cake and other fruity desserts.
Using and Storing
Whipped frosting spreads smoothly with a spatula or knife and can be handled the same way as regular frosting. Because whipping incorporates air into the frosting, it remains fluffy and does not deflate like whipped cream. Store unused whipped frosting in the refrigerator. Frosting will keep for up to two weeks in the refrigerator.
References
Writer Bio
Nannette Richford is an avid gardener, teacher and nature enthusiast with more than four years' experience in online writing. Richford holds a Bachelor of Science in secondary education from the University of Maine Orono and certifications in teaching 7-12 English, K-8 General Elementary and Birth to age 5.
Photo Credits
Jupiterimages/Photos.com/Getty Images