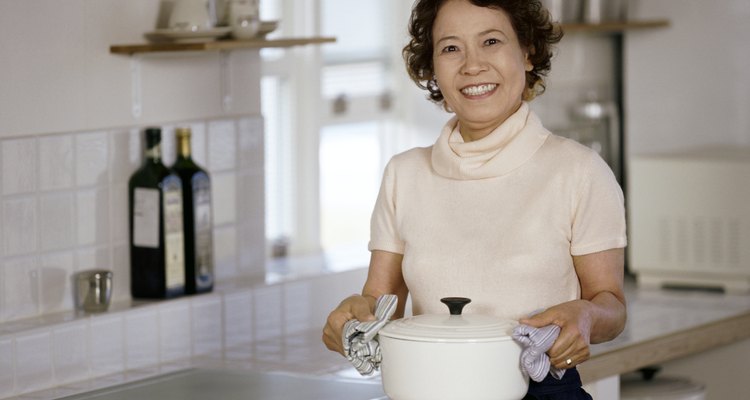 Nick Clements/Photodisc/Getty Images
Beef shoulder yields a number of cuts, which as a group are referred to as "chuck." The various shoulder, chuck, arm, blade and flatiron steaks and roasts, as well as pot roasts, are all shoulder muscle. These cuts are known for their great flavor and cost-effectiveness, but also for their relative toughness and high fat and connective tissue content. The best way to turn chuck cuts into a tender, delicious meal is by cooking them slowly in a liquid, as with braising. This method is handy for cuts of all shapes and sizes.
Step 1
Arrange the racks in your oven to accommodate your Dutch oven or stovetop-safe casserole dish. Preheat to 325 degrees Fahrenheit.
Step 2
Chop carrots, celery and onion with a sharp knife and toss them together in a small bowl. This combination is known as mirepoix, and it's a traditional inclusion in braised beef dishes.
Step 3
Pat the beef shoulder steak or roast with paper towels to dry the surface. A dry surface is needed for a well-developed sear, which is the first stage of the braising process. Salt and pepper the meat to taste.
Step 4
Preheat your Dutch oven or casserole dish over medium-high heat. Coat the bottom with a little cooking oil and wait for it to become shimmering hot.
Step 5
Sear every side of your shoulder roast or steak for about 3 minutes, just until they develop a rich browning. Remove the beef and set it aside for the moment, then saute the mirepoix for 4 to 5 minutes, just until the carrots, celery and onion soften.
Step 6
Pour red wine, beer, chicken or beef broth or another braising liquid into the Dutch oven or casserole dish. The amount depends on the size of your beef shoulder cut; use enough liquid to submerge the meat about halfway when you put it back in.
Step 7
Scrape up the caramelized remnants on the bottom and sides of the dish that were left from searing the meat. Use a spatula or large spoon. These add flavor to the braising liquid, which you now bring to a boil. Also, add in any herbs, spices, aromatics or vegetables you'd like to include; thyme, rosemary, oregano, bay leaves, garlic or onion powder, chili powder, black or white pepper, hot sauce, chopped garlic or shallot, leeks, okra, green beans and chopped potatoes are some possibilities.
Step 8
Turn off the burner and put the beef shoulder back into the Dutch oven or casserole dish. Put the lid on and stick it in the oven. Turn the meat every half hour or so and braise it until it's falling-apart tender; confirm with a cooking thermometer that it reached at least 145 degrees at center. Cooking time varies by what size cut you have; as a general guide, small steak cuts need about 1 hour; larger steaks approximately 1 1/2 hours; smaller roasts of a few pounds roughly 2 hours; and larger roasts of 4 to 5 pounds around 2 1/2 hours.
References
Tips
Refrigerate your beef shoulder to keep it below 40 degrees. Use or freeze fresh beef within three to five days of purchase.
Warnings
Wash your hands and all kitchen surfaces and tools after contact with uncooked meat.
Writer Bio
Eric Mohrman is a food and drink, travel, and lifestyle writer living in Orlando, Florida. He has professional experience to complement his love of cooking and eating, having worked for 10 years both front- and back-of-house in casual and fine dining restaurants. He has written print and web pieces on food and drink topics for Visit Florida, Orlando Style Magazine, CrushBrew Magazine, Agent Magazine, Dollar Stretcher Magazine, The 863 Magazine and other publications.
Photo Credits
Nick Clements/Photodisc/Getty Images