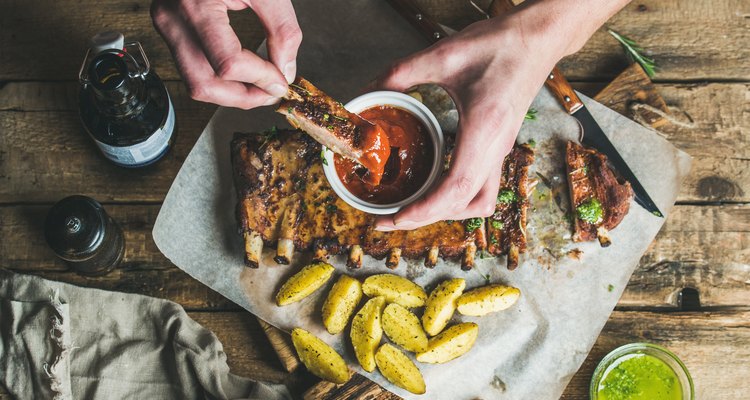 Foxys_forest_manufacture/iStock/GettyImages
Beef chuck Western-style ribs are cut from the shoulder of the steer, so they're not really ribs at all. That isn't a problem: They have the same luscious combination of richly flavored meat and fat you'd find on ribs, but they're thicker and meatier and altogether delightful. Like real ribs they require long, slow cooking to make the them falling-apart tender, so your best option is a gentle, flavorful braise.
Cut the ribs to fit the Dutch oven if necessary.
Heat the Dutch oven until it's medium hot on top of the stove.
Test the pan for temperature. Sprinkle a few drops of water on the bottom of the Dutch oven. If the water sizzles, bounces and almost immediately evaporates, the pan is hot enough. Add enough oil to cover the bottom of the pan, but just barely.
Brown each rib section in the hot oil. Remove and set aside until all rib sections are browned.
Add the rib sections back to the Dutch oven and add the liquid. Stand back; there will be lots of steam. Freshly brewed coffee is one option, but beef broth, wine, beer or even water will work. The liquid should reach the top of the ribs but not cover them.
Throw in the seasonings of your choice such as black pepper, sage, thyme, or marjoram. Add onions, shallots and/or garlic. Leeks are not traditional but you could use them instead of onions. Go for Tex Mex Western rib seasonings with cumin, cilantro, garlic, red chili flakes or fresh hot diced chilies. Stir to distribute the seasonings.
Cover the Dutch oven with the lid. Cook on low so the liquid barely simmers for 3 hours, until the ribs are falling-apart tender. Don't let the liquid evaporate completely.
Take the ribs out of the oven and serve, slathered in your favorite barbecue sauce. For an even tastier meal, fire up your oven's broiler or your backyard grill, and sear the ribs at high heat to caramelize the sauce and char it lightly.
References
Rick Bayless's Mexican Kitchen; Rick Bayless
Tips
Use a heavy pan with a tight-fitting lid on the stove, if you don't have a Dutch oven.
Warnings
Don't let the oil smoke before adding the ribs to brown. The meat may taste burnt.
Writer Bio
Katie Jensen's first book was published in 2000. Since then she has written additional books as well as screenplays, website content and e-books. Rosehill holds a Master of Business Administration from Arizona State University. Her articles specialize in business and personal finance. Her passion includes cooking, eating and writing about food.