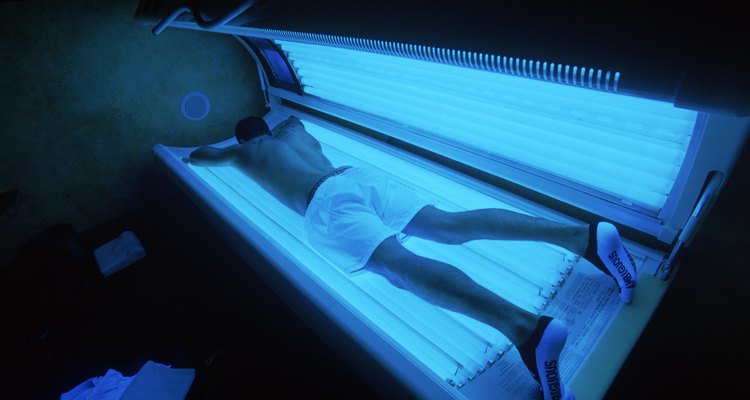 Donald Miralle/Getty Images Sport/Getty Images
Though most tanning salons require patrons to wear protective goggles while tanning, many also recommend removing contact lenses prior to using the beds.
Benefits
Using a tanning bed exposes the skin to about 40% less UVB (burning) rays than natural sunlight. You are less likely to experience the redness and pain of the sunburn when using a tanning bed.
Warning
Tanning beds also expose users to about three times the amount of UVA rays given off by natural sunlight. Prolonged exposure to UVA rays have been found to cause rapid aging and cancer of the skin.
Prevention/Solution
Tanning dehydrates the skin and body tissues, which can cause contact lenses to dry out and stick to the eyes. Always wear protective goggles when tanning. If you choose to wear contacts while tanning, use drops to moisturize your lenses prior to your session.
Considerations
Salon experts recommend applying moisturizer to the skin and drinking plenty of water prior to tanning to avoid becoming overly dehydrated.
Preparation
Be sure to ask the salon what types of beds and lamps it uses. Take into consideration your skin type when determining how much time to spend in a tanning bed.
References
Writer Bio
Sallie Story is a journalist with copy editing, designing and writing experience. She has been working as a journalist since 2004. Publications worked for include "Vox" magazine, the "Columbia Missourian," "The Sun News," and the "Belleville News-Democrat." Story holds a Bachelor of Arts from Mizzou's School of Journalism.
Photo Credits
Donald Miralle/Getty Images Sport/Getty Images