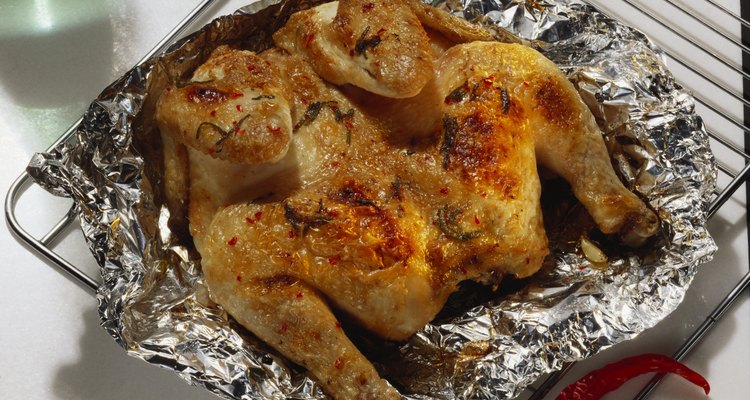 Eising/Photodisc/Getty Images
Roasting is a delicious and healthy way to prepare chicken. With minimal prep time, a juicy and flavorful bird comes out of the oven, creating a beautiful presentation on your dining room table. The downside to roasting a chicken is that cleanup can be a bit difficult. Since chicken is roasted for 20 minutes per pound, the lengthy cooking time results in cooked-on bits stuck to the bottom of your roasting pan. To remedy this situation, place a silicone baking sheet in your pan for quick clean up.
Description
Silicone baking mats incorporate fiberglass mesh inside of food grade silicone to provide a nonstick surface for all sorts of foods. While traditionally used for baked goods, silicone baking sheets have many uses in the kitchen. Aside from their nonstick surface, they provide even heat distribution, as well. They also reduce waste because, unlike aluminum foil and parchment paper, silicone sheets can be washed and used repeatedly. Some brands are safe in the oven up to 480 degrees Fahrenheit, though you should check with the manufacturer of your baking mat for specifics to your product.
Instructions
Choose a roasting pan large enough to hold your chicken, making sure your chicken doesn't touch the edges of the pan. Having space between the chicken and the pan ensures that it browns beautifully all the way around and makes for better presentation. Place a silicone baking sheet in the bottom, making sure it is as large as the bottom of the pan. Season the chicken as you desire and place it on top of the mat. It doesn't need any oil or non-stick spray. Bake the chicken until it reaches a minimum of 165 degrees Fahrenheit.
Clean Up
After roasting your chicken, remove it from the pan and transfer to a serving plate. Depending on the amount of fat on the chicken, you will have grease in the bottom of your pan. Pour the grease into a container for disposal. Grease may have seeped underneath the mat if there were any loose edges, but that is easy to clean. Remove the mat from the pan and wipe it down in hot, soapy water. Rinse the mat thoroughly and allow it to dry.
Considerations
A silicone baking sheet should always be used inside of another pan or dish. Never place it directly onto the rack of the oven. For the safety and longevity of your mat, always remove the chicken from the surface of the mat before cutting it. A knife will slice through the mat easily. You may notice that the mat becomes discolored or even a bit oily after using and cleaning it. Please keep in mind that this is normal and your product is not defective. Always store the mat rolled up or flat between uses, never fold it.
References
Writer Bio
Amber Canaan has a medical background as a registered nurse in labor and delivery and pediatric oncology. She began her writing career in 2005, focusing on pregnancy and health. Canaan has a degree in science from the Cabarrus College of Health Sciences and owns her own wellness consulting business.
Photo Credits
Eising/Photodisc/Getty Images