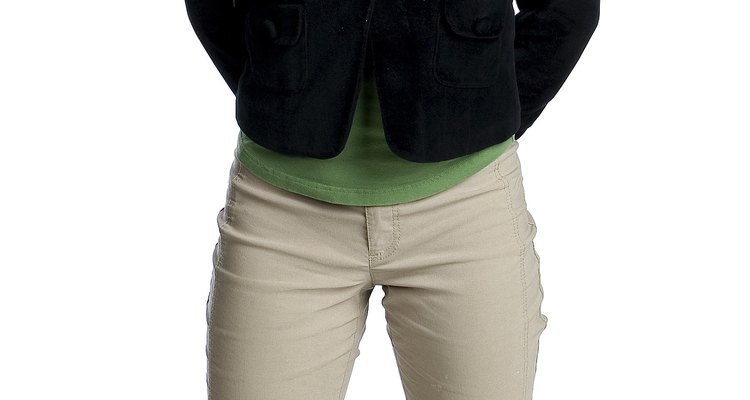 NA/PhotoObjects.net/Getty Images
Black dye can successfully cover any original fabric color, so those khakis that you've fallen out of love with are a prime candidate for a home dyeing project. An added benefit of dyeing khakis black is that while turning them into perhaps the most versatile of garments, the dye will also cover up any old stains or marks. First check the label to make sure your khakis are made of a dyeable fabric -- cotton, linen, rayon, silk or nylon -- or a blend with at least 60 percent of a dyeable fabric. If so, you can use an all-purpose dye for the project, which doesn't require any other specialist equipment or supplies.
Step 1
Wash the khakis in the washing machine with laundry detergent as you usually would, and leave them damp. If they are already clean, simply rinse the khakis under warm water until they are wet.
Step 2
Wear rubber gloves. Measure and mix the dye according to the manufacturer's instructions, but use double the amount of dye called for. You will generally need to measure double the recommended amount of powdered dye into a jar using measuring spoons, add about 2 cups of hot water and stir with a craft stick or plastic spoon until the powder is dissolved. No pre-mixing is required if you are using liquid dye.
Step 3
Run your hot tap until the water is as hot as it can be, then add the recommended volume of hot water to a plastic bucket. Ensure that you have more than enough water to completely saturate the pants.
Step 4
Pour the dissolved dye solution into the bucket of hot water and stir with a wooden spoon. If you are using liquid dye, shake the bottle and measure double the amount of dye recommended by the manufacturer directly into the bucket of hot water and stir.
Step 5
Lower the damp khakis into the bucket and carefully stir them with the spoon until they they are fully saturated with the dye solution. Continue stirring for five minutes.
Step 6
Add 1 tablespoon of laundry detergent to the bucket and stir. For cotton, linen or rayon fabric add 1 cup of salt and stir. For silk or nylon fabric, add 1 cup of white vinegar and stir.
Step 7
Continue to gently stir the pants for 30 minutes to an hour. Lift the fabric out of the dye solution every 10 minutes or so to examine the results. When you see that the black color of the pants is as dark as you desire, remove them from the bucket. Squeeze excess dye solution back into the bucket, then transfer the pants to the sink.
Step 8
Rinse the pants under warm water until most of the dye solution is rinsed out, then under cold water until the water runs clear.
Step 9
Wash the dyed khakis in your washing machine with laundry detergent on the hottest setting that is safe for the fabric. Dry them by machine or on a washing line.
References
Tips
Wash the pants alone or with other black garments for the first few washes after dyeing.
The thread used to sew the khakis' seams and hems may remain in its original color. You can consider this an interesting design feature, or unpick the visible stitch lines and re-sew them with black thread.
Warnings
Dye will stain everything it touches, so cover the surfaces around your work space, wipe up any spills or splashes immediately and scrub your sink, bucket and other equipment with powdered bleach as soon as you've finished the dyeing project.
Writer Bio
Joanne Thomas has worked as a writer and editor for print and online publications since 2004. Her writing specialties include relationships, entertainment and food, and she has penned pieces about subjects from social media tools for Adobe to artists' biographies for StubHub. Thomas has also written for such names as Disney, Hyundai, Michelob and USA Today, among others. She resides in California and holds a bachelor's degree in politics from the University of Bristol, U.K.
Photo Credits
NA/PhotoObjects.net/Getty Images