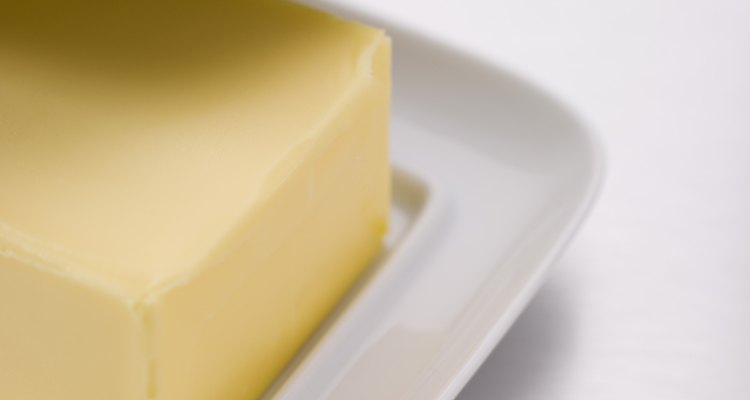 BananaStock/BananaStock/Getty Images
Butter is an emulsion of fat, water and milk solids and has a pale yellow color and creamy texture when you buy it. To retain its color, texture and hardness you must keep it in the fridge or in a very cool room. When you melt butter with heat, the emulsion "breaks" and the components separate. If you have leftover melted butter from a cooking or baking project you can put it back in the fridge and it will harden, but it will also remain broken.
What It Looks Like
Pour leftover melted butter in a clear container and you'll see two layers when it solidifies. You will notice a thick pale-yellow layer of milk solids on the bottom and a slightly more yellow and translucent layer of pure butterfat on the top. You can still spread re-solidified butter on your food. For example, it will work fine on toast or corn on the cob, but it just may not look as appetizing. Normally butter that melts when left on the counter doesn't separate and retains the standard color and texture when it hardens.
References
Writer Bio
Maya Black has been covering business, food, travel, cultural topics and decorating since 1992. She has bachelor's degree in art and a master's degree in cultural studies from University of Texas, a culinary arts certificate and a real estate license. Her articles appear in magazines such as Virginia Living and Albemarle.
Photo Credits
BananaStock/BananaStock/Getty Images