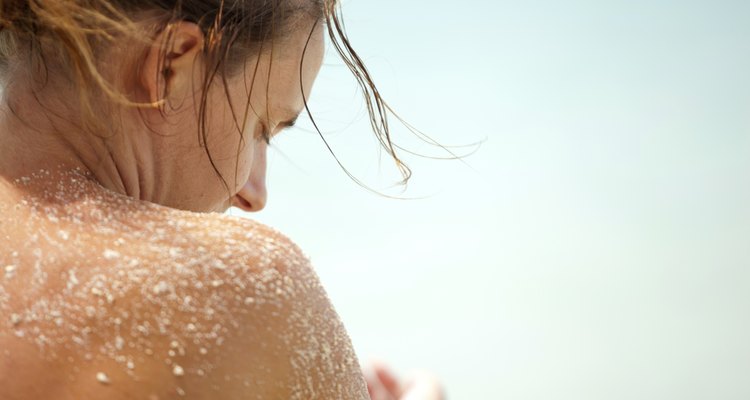 DNF-Style/iStock/Getty Images
Skin bleaching is a depigmentation treatment to remove dark spots caused by aging, blemishes, disease, hormone changes and the sun. It is not intended to lighten your overall appearance for the sake of beauty. The key to finding the right lightening tool for your face is to understand the difference between a doctor-administered bleaching system and lightening and brightening products you can use at home. When used correctly, bleaching and lightening products and procedures can provide relief for people who are unhappy with their skin's appearance.
Bleaching Basics
Skin bleaching or skin lightening is the process by which chemicals are used to lessen melanin in the skin. According to New York-based dermatologist Dr. Bruce Katz, products are available that lighten the skin by causing a chemical reaction that blocks pigmentation cells called melanocytes. The key to success, according to Katz, is to use these products for only two to three months.
Understanding the Ingredients
There are a wide range of ingredients found in bleaching agents, some of which include hydroquinone, kojic acid, retinoids, botanicals and topical corticosteroids. Some products have been found to include mercury, a poison that can damage the nervous system, and inappropriate doses of hydroquinone, which can leave a blue-black hue on the skin. Unfortunately, not all ingredients are listed on the back of skin-bleaching products, so it's important to talk to a doctor when considering a bleaching product.
Visiting a Doctor
Bleaching should be reserved for people with a skin disease such as vitiligo, and it should always be done under the care of a doctor. The safest option for people who desire an even, brighter skin tone is a skin-brightening procedure. A board-certified dermatologist can discuss options such as light therapy, microdermabrasion procedures and chemical peels. These work to remove dead skin, so new vibrant skin can surface and skin tone is evened out.
Brighten Instead of Bleach
If you're after an even skin tone and a more luminous look, you can safely use over-the-counter products that brighten the skin. Ingredients such as licorice root, arbutin, songyi mushroom, lemon peel, vitamin C, alpha hydroxy, glycolic acid and grape seed extract are proven effective in brightening the skin. In addition, stay out of the sun when possible and always use a daily sunscreen with zinc and an SPF 30.
References
Writer Bio
Based in Los Angeles, Lisa Finn has been writing professionally for 20 years. Her print and online articles appear in magazines and websites such as "Spa Magazine," "L.A. Parent," "Business," the Famous Footwear blog and many others. She also ghostwrites for mompreneurs and business owners who appear regularly on shows such as Ricki Lake, HGTV, Carson Daly and The Today Show.
Photo Credits
DNF-Style/iStock/Getty Images