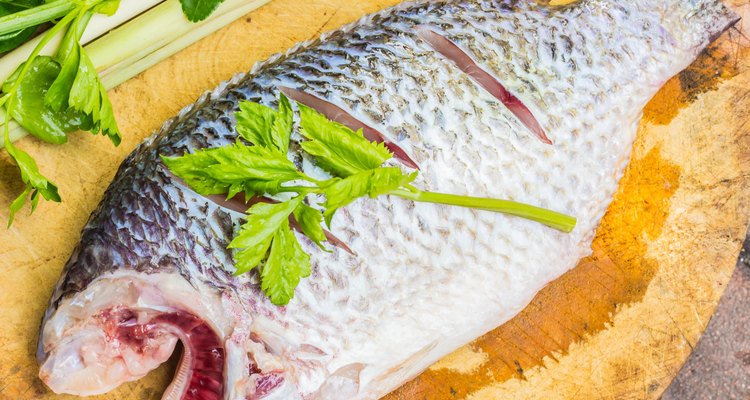 start08/iStock/Getty Images
Tilapia grilled on an indoor George Foreman grill makes a quick and delicious main dish. Tilapia is a versatile fish that's usually farm-raised and featured on many dinner tables for its low cost and widespread availability. According to the New England Aquarium, tilapia is especially suited to aquaculture because of its rapid growth, resistance to disease and mostly vegetarian diet.
Foreman Grill 101
You can use a George Foreman grill to cook all sorts of meats and seafood. The efficient top and bottom grill plates allow the grilling of both sides at once, while the slope of the grill allows excess fat to drain off while it cooks. Tilapia, a tender, slim white fish, is one of the fastest foods to cook using a Foreman grill. Fresh tilapia fillets are recommended over frozen tilapia fillets, which tend to be thin and watery. The George Foreman guide suggests grilling white fish from 5 to 7 minutes at medium temperature. If using a Foreman grill without temperature controls, it will cook in just 2 to 3 minutes.
Fast and Simple
Not only do tilapia fillets cook extremely fast, they also take little time to prepare. While the grill heats up, brush the fish with olive oil and coat it with seasonings. Tilapia has such a mild flavor that almost any combination of seasonings, such as salt, pepper, lemon pepper, paprika or chili flakes, complement it. When the tilapia is fully cooked, it will be flaky and opaque. Remove it from the grill with a heat-resistant spatula so that it doesn't fall apart in your tongs. Squeeze lemon on top, pair it with a baked potato and a steamed vegetable, and dinner is served.
Nutrition Report
A 3-ounce serving of tilapia contains about 21 grams of protein, making it an excellent source of protein. It's also a good source of niacin, phosphorous, selenium and vitamin B12. High levels of omega-3 and omega-6 fatty acids result in a high overall cholesterol content -- at 48 milligrams. Tilapia is not a high-fat fish, but grilling it on a George Foreman grill reduces its fat content even more.
Fat Reduction
The compression of the George Foreman Grill plates during cooking and the slant of the grill encourage excess fat to drain off the fish into a small plastic tray. While you can't determine the exact amount of fat that is removed from white fish like tilapia, a 2011 George Foreman press release claims that independent testing showed a 42 percent fat reduction when cooking 80/20 beef hamburgers. So you can reasonably expect to reduce some fat when grilling even a relatively low-fat fish such as tilapia on your Foreman grill, as well.
Sustainability Report
According to the Monterey Bay Aquarium Seafood Watch, tilapia farmed in the United States, Canada or Latin America rate as the best choice for sustainability in 2013. Tilapia is also frequently farmed in Taiwan and China, and both of these countries are a good alternative, partially because tilapia raised in these countries are farmed primarily in outdoor ponds. In contrast, tilapia raised in the U.S., Canada and Latin America are typically farmed in covered indoor facilities.
References
Writer Bio
Mary Potts has been a writer since 2008. She writes food reviews, chef profiles and feature articles ranging from green living to arts and culture for "North Bank," an urban lifestyles magazine based in Vancouver, Wash. Potts earned a Bachelor's degree in photography from Northern Arizona University in 1997.
Photo Credits
start08/iStock/Getty Images