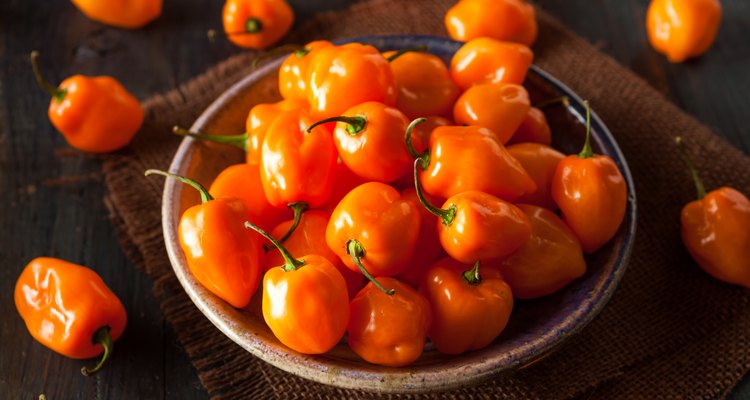 bhofack2/iStock/Getty Images
Habanero and serrano peppers both pack a lot of heat for their small size. Excellent sources of vitamin C if your mouth can withstand them, these peppers are low in calories, high in antioxidants and loaded with flavor. Using roasted habaneros and serranos is a convenient way to add heat to a dish; try tossing them into stews, casseroles and dips. Roasting and freezing fresh hot peppers allows you to keep them handy and ready to go.
Preheat the oven to "broil."
Wash the peppers under cool running water and dry them off with paper towels.
Slice the stems off the peppers and cut them in half length-wise.
Scrape out the seeds with the knife and discard them.
Set the peppers onto a broiling pan or baking sheet with the skin facing up in a single layer.
Slide the pan into the oven and allow them to cook for 10 minutes.
Remove the peppers from the oven. Use tongs to pick them up and drop them into a small paper bag or plastic container with a lid. Seal up the bag or container to trap the heat inside.
Leave the peppers in the bag or container for 15 to 20 minutes.
Take the peppers out and peel away the skins and discard them. They will still be hot from the oven so use caution. It may be helpful to lay them out onto a plate and allow them to cool enough to touch first.
Arrange the peeled roasted peppers onto a wax paper lined cookie sheet in a single layer.
Set the cookie sheet into the freezer and leave it there for 30 minutes to an hour.
Remove the cookie sheet from the freezer and place the peppers into a freezer bag.
Place the bag into the freezer marked with the date. Use a permanent marker to write on the plastic.
References
Resources
Writer Bio
Melynda Sorrels spent 10 years in the military working in different capacities of the medical field, including dental assisting, health services administration, decontamination and urgent medical care. Awarded the National Guardsman's Medal for Lifesaving efforts in 2002, Sorrels was also a nominee for a Red Cross Award and a certified EMT-B for four years.
Photo Credits
bhofack2/iStock/Getty Images