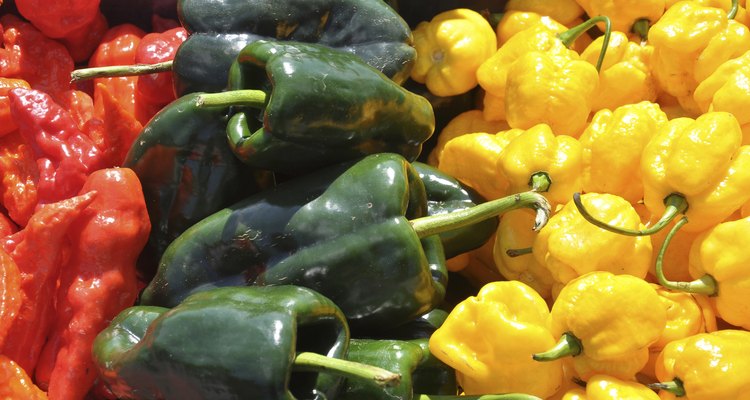 ejkrouse/iStock/Getty Images
Plump, glossy and tinged a deep, dark green, poblano peppers are a mainstay in Mexican cuisine and becoming more familiar to American palates. Hotter than a bell pepper but not as eye-watering as a jalapeno, poblanos show up most frequently in chiles rellenos — a luxuriously rich dish of cheese-stuffed roasted peppers in a pool of spicy tomato sauce. Roasted poblano peppers are equally delicious as the main ingredient in salsa verde or as a kicky counterpart in creamy soups. Anyone with a broiler can roast poblanos for restaurant-quality Latin fare.
Wash and dry the fresh peppers. Insert the tip of the chef's knife near the stem end and cut a circle around the stem. Pull the stem and the seed-covered innards out and discard them. Repeat for each pepper.
Slice each pepper in half lengthwise.
Spray the baking sheet lightly with olive oil and place the peppers, cut side down, on the sheet.
Heat the broiler. Insert the baking sheet, close the door and roast the peppers for 10 to 15 minutes. Turn them over occasionally with tongs for even roasting.
Check the peppers for doneness: the outer skins will be blackened and the peppers will have buckled, indicating their softness. When done, remove the peppers from the broiler.
Pick up the pepper halves carefully, using the tongs, and drop them into the paper bag while they're still hot. Keep them in the bag until they're cool enough to handle, or refrigerate them to speed up the cooling process.
Remove them from the bag and peel away the charred skin from the peppers, revealing the soft and juicy undersides. Chop the peppers or leave them whole according to your recipe.
References
"The Essential Vegetarian Cookbook;" Diana Shaw; 1997
"Better Homes and Gardens New Cook Book, 15th Edition;" Better Homes and Gardens; 2010
Tips
Poblanos have an outer skin that is tougher than other peppers', so they're ideal for stuffing or for replacing tortillas in enchiladas.
Dried poblano peppers are called ancho chiles.
Warnings
Poblano seeds contain volatile oils than can remain in your skin, even after washing with soap and water. Avoid touching your eyes, lips or other sensitive areas after handling peppers. Or wear latex gloves to be extra safe.
Photo Credits
ejkrouse/iStock/Getty Images