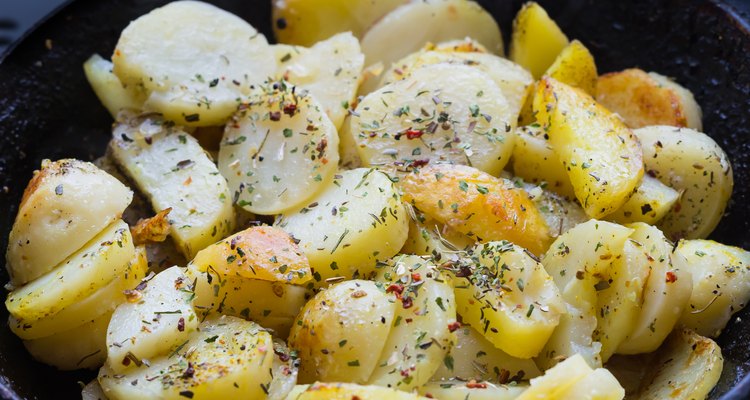 Dart_Weider/iStock/Getty Images
Making a frozen potato side dish for grilled steaks or burgers does not have to mean using both your grill and oven. Save time and keep your house cooler by cooking frozen potatoes, including baked potatoes, hash browns or french fries on your grill. A few sheets of aluminum foil or a foil pan and an understanding of cooking times will ensure that frozen potatoes grill up tasty and finish cooking at the same time as the rest of your meal.
Set each frozen baked potato in a separate sheet of aluminum foil and bring up the edges. Allow moisture to escape when the potato cooks by leaving the aluminum foil open rather than sealing the edges.
Toss frozen hash browns or french fries in a mixing bowl with olive oil or a low-fat salad dressing such as Italian or ranch to ensure they do not dry during grilling.
Season frozen potatoes with minced onion, chopped garlic or bell peppers and black pepper.
Create one or more aluminum foil pouches for hash browns and french fries, or use a disposable foil pan. Ensure the potatoes grill evenly by using a pouch or pan large enough to add them in a single layer. Double-seal the edges of each pouch and cover the pan with a sheet of aluminum foil. Use a fork to make five to six venting holes in the top of a pouch or aluminum foil cover to allow steam to escape during grilling.
Grill all types of frozen potatoes in a medium hot grill – about 375 degrees to 400 degrees F -- directly over hot coals or one or more burners on a gas grill. Grill baked potatoes for 35 to 45 minutes and hash browns or french fries for 20 to 30 minutes.
Insert a food thermometer into a baked potato, or hold it in one of the venting holes in an aluminum foil pouch or pan to check for doneness. The thermometer should read 165 degrees F before you remove the cooked potatoes from your grill.
References
"Kenmore 4-Burner Gas Grill Model PG-40408SOL Owner Manual"; Sears; 2010
Writer Bio
Based in Green Bay, Wisc., Jackie Lohrey has been writing professionally since 2009. In addition to writing web content and training manuals for small business clients and nonprofit organizations, including ERA Realtors and the Bay Area Humane Society, Lohrey also works as a finance data analyst for a global business outsourcing company.
Photo Credits
Dart_Weider/iStock/Getty Images