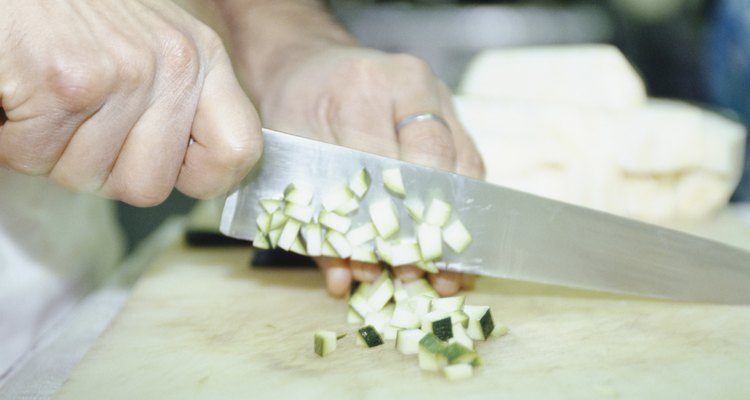 David De Lossy/Photodisc/Getty Images
Cucumbers may do more for your skin than for your palate. These cylindrical fruits, a member of the melon family, have properties that soothe and soften the skin. For an easy do-it-yourself skin treatment, reach into your refrigerator and pull out a cucumber to make a toner or mask or simply lay slices over your eyes to look refreshed.
Antioxidant Power
The older you get, the fewer antioxidants you have in your skin to combat wrinkles and sun damage -- cucumbers can help restore some of these. Your skin has the ability to absorb antioxidants. Cucumbers are a source of several compounds that fight inflammation and aging, including cucurbitacins and cucumerin.
Vitamin Rich
Cucumbers contain vitamin C, an antioxidant. They also have plenty of vitamin K, also an antioxidant, which fights dark circles under the eyes. This is why a couple of cucumber slices placed over tired, puffy eyes in the morning makes you look refreshed. Pantothenic acid, or vitamin B-5, is another compound found in cucumbers that helps your skin retain moisture. The vitamin A, or retinol, in cucumbers fights dark spots and freckles because it helps control your skin's production of melanin.
Wrinkle Fighter
Cucumbers are a source of silica, which, as a precursor to collagen, can help fight wrinkles. A May 2011 issue of the "Archives of Dermatological Research" published a study concluding that the presence of ascorbic acid, or vitamin C, makes cucumber juice a particular effective ingredient in anti-wrinkle products. You can add cucumber juice to your favorite lotion or make a toner by grating a cucumber, straining out the juice through cheesecloth and mixing it with an equal amount of witch hazel or rose water. Use a cotton ball to apply it to your face.
Skin Irritations
Cucumbers have high water content and a cooling quality, making them appropriate to help soothe mild burns, particularly sunburn. They can also reduce swelling and relieve minor skin irritations, reported a review published in the journal "Fitoterapia" in 2013.
References
Writer Bio
Andrea Boldt has been in the fitness industry for more than 20 years. A personal trainer, run coach, group fitness instructor and master yoga teacher, she also holds certifications in holistic and fitness nutrition.
Photo Credits
David De Lossy/Photodisc/Getty Images