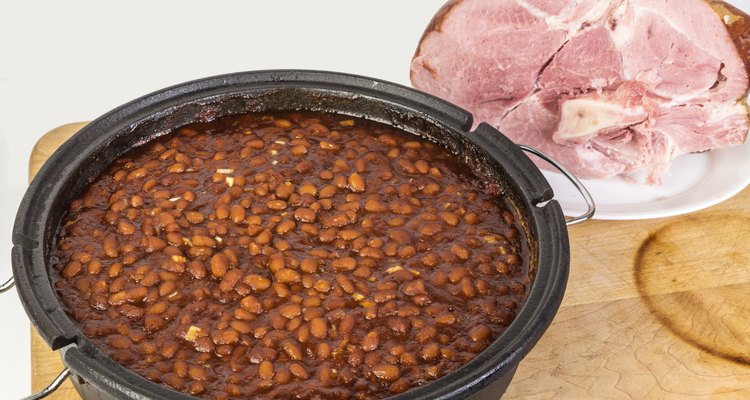 Warren Price/iStock/Getty Images
Pinto beans with ham hocks is a mainstay on tables throughout the South. Because of its ability to be made in large batches, it is a common item at family gatherings, Sunday dinners and barbecues. The ubiquitous Southern beans don't hold back on fat, as they are simmered with a ham hock for hours, and can work as a meal on their own when paired with a piece of cornbread.
Long-Cooking Basics
Soak pinto beans overnight in a large pot with at least twice as much water as beans. In the morning, before you begin cooking, drain, rinse and refill the bean's soaking water.
Dice several onions and add them to the pot, along with ham hocks and seasonings like salt, pepper and garlic powder. Bring the beans to a boil, then turn the heat down to simmer the beans.
Remove any scum that forms on the top of the beans using a wire mesh strainer. Cover the beans and simmer them for 2 to 2 1/2 hours, or until the beans are soft, yet not falling apart.
Remove the ham hocks from the beans using the slotted spoon and set aside. Once cooled, use your clean hands to remove any small bits of meat that remain on the ham hocks and place this meat back into the beans.
Adjust seasonings as needed, adding more salt, pepper or garlic powder as desired, and serve.
References
Writer Bio
Based in Portland, Ore., Maxine Wallace is a writer with more than 12 years of experience. With a bachelor's degree in journalism and experience working on marketing campaigns for large media agencies, she is well-versed in multiple industries including the Internet, cooking, gardening, health, fitness, travel and holistic living.
Photo Credits
Warren Price/iStock/Getty Images