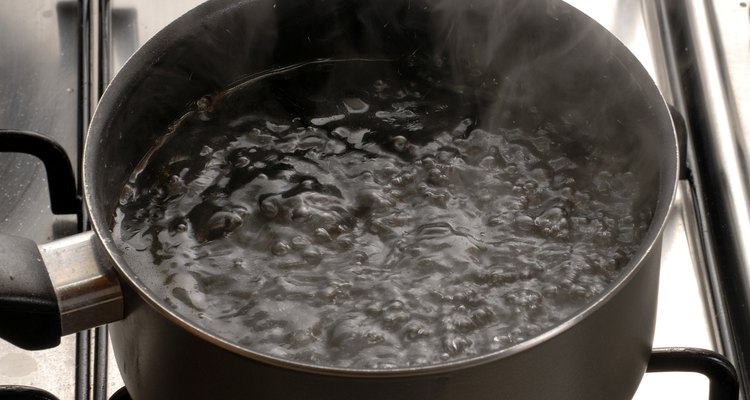 GOSPHOTODESIGN/iStock/Getty Images
In Louisiana and other parts of the South, every part of the pig is eaten, leaving nothing to waste, according to "You Are Where You Eat: Stories and Recipes from the Neighborhoods of New Orleans." Cooked pig tails add flavor to side dishes, such as peas and turnip greens. The rendered fat gives recipes a distinct flavor that might otherwise be lost using other parts of the pig. Barbecued pig tails grilled to a crisp are often eaten as an appetizer before the main dish. Do not let the location of the pig's tail deter you from trying these tasty treats of the South.
Boiling
Wash and dry 2 lbs. of pig tails thoroughly by scrubbing them with a stiff nylon scrub brush.
Heat 1/4 cup of cooking oil in the bottom of a large stockpot. Brown the tails in the stockpot by turning them with tongs.
Pour 4 cups of water into the stock pot. Bring the water, tails and oil to a boil over high heat. Lower the heat once the water begins to boil. Simmer until the tails become tender.
Remove the pig tails from the stock pot. Use a meat cleaver to chop the tails into small, bite-size pieces, about 2 inches long. Add the pig tail pieces to your recipe.
Grilling
Clean 2 to 3 lbs. of pig tails with a stiff scrub brush under running water.
Place the tails on a roasting rack inside a roasting pan, fat side down. Bake the tails in an oven preheated to 300 degrees Fahrenheit for 2 hours.
Place the baked pig tails on your grill. Grill the tails over medium heat, about 325 to 350 degrees Fahrenheit.
Baste the pig tails with your favorite barbecue sauce. Turn the tails periodically with tongs and continue to brush with sauce until the tails become brown and crispy.
References
Writer Bio
Cecilia Harsch has been writing professionally since 2009. She writes mainly home improvement, health and travel articles for various online publications. She has several years of experience in the home-improvement industry, focusing on gardening, and a background in group exercise instruction. Harsch received her Certified Nurses Assistant license in 2004. She attended Tarrant County College and studied English composition.
Photo Credits
GOSPHOTODESIGN/iStock/Getty Images