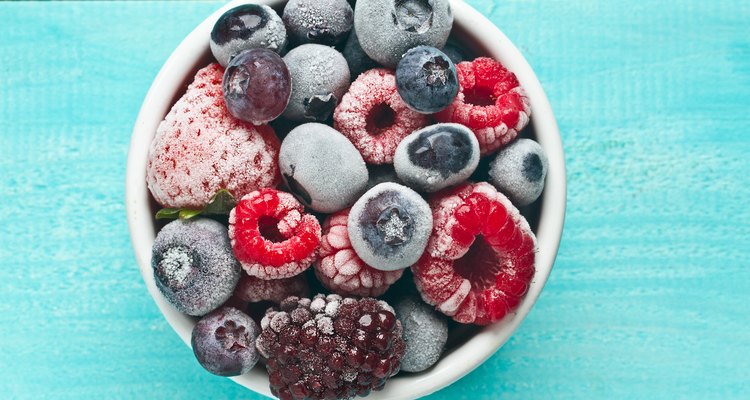 sagarmanis/iStock/GettyImages
Blueberries are a "superfood" packed with antioxidants, vitamins and minerals. While they're only in season for a short time, importing them from warmer climates make it possible to eat fresh blueberries year round.
You may also freeze blueberries, though doing so decreases many of the nutrients — but may increase the antioxidant content. The degree of nutrient degradation, however, is not significant enough to deter you from including them in a healthy meal plan.
Low in Calories and Fat
Frozen blueberries contain slightly fewer calories than raw blueberries — 79 calories versus 84 calories per cup, according to LIVESTRONG.COM's MyPlate food database.
The Diet Channel suggests limiting your caloric intake for between-meal snacks to 100 to 200 calories, so a cup of fresh or frozen berries will not exceed recommendations. A 1-cup serving of frozen blueberries has 0.9 grams of fat compared to the 0.4 grams in a cup of raw blueberries, both negligible amounts.
Read more: Why are Blueberries Good for You?
Carbohydrates and Protein
Frozen blueberries lose some nutritional value when it comes to carbohydrates and protein. One cup of frozen blueberries contains 18.8 milligrams of carbs and 0.6 grams of protein, while a 1-cup serving of raw blueberries has 21.4 grams of carbohydrates and 1.1 grams of protein.
You should consume 225 to 325 grams of carbohydrates and 50 to 175 grams of protein each day — these macronutrients break down in your body for energy. Carbohydrates also keep your kidney and brains working as they should, and protein promotes muscle growth. The overall protein content of blueberries, fresh or frozen, is negligible, however, especially when compared to protein-rich foods, such as dairy, eggs, poultry, fish and meat.
Vitamin K
Both frozen blueberries and raw blueberries provide vitamin K, but berries lose a bit of this nutrient when frozen. A 1-cup serving of raw berries has 28.6 micrograms versus the 25.4 micrograms of vitamin K available in a cup of frozen berries.
Adult women require 90 micrograms of this vitamin, while men should consume 120 micrograms. The vitamin K in fresh and frozen blueberries contributes toward bone health and helps your blood clot normally.
Manganese
Blueberries lose some manganese content when frozen. A cup of fresh blueberries contains 0.5 milligrams compared to the 0.2 milligrams in a cup of frozen berries.
Men require 2.3 milligrams of manganese each day; it may have a bearing on sperm quality, according to a study available in the July-August 2009 issue of Oxidative Medicine and Cellular Longevity. Women require less than men — 1.8 milligrams — unless pregnant. Women who are pregnant or breastfeeding need 2 to 2.6 milligrams daily, respectively. The manganese in raw and frozen blueberries helps you metabolize carbohydrates and fat.
Antioxidants Increase
Although many nutrients decline slightly when blueberries are frozen, antioxidant content actually concentrates, as reported in a study published in the International Journal of Molecular Sciences published in 2015. Freezing blueberries increases the antioxidant content for about three months, after which their antioxidant content starts to decline.
Antioxidants are valuable in fighting free radicals that contribute to accelerated aging and disease. Blueberries are one of the highest sources of antioxidants available.
Read more: How Do Blueberries Affect Your Body?
References
Resources
Writer Bio
Nicki Wolf has been writing health and human interest articles since 1986. Her work has been published at various cooking and nutrition websites. Wolf has an extensive background in medical/nutrition writing and online content development in the nonprofit arena. She graduated with a Bachelor of Arts in English from Temple University.