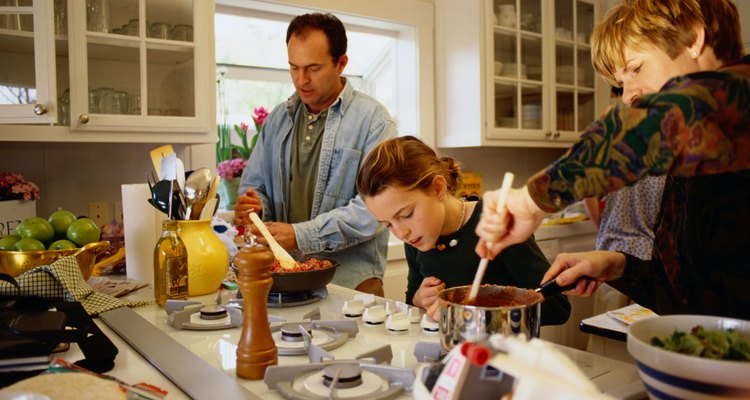 Buccina Studios/Photodisc/Getty Images
Once-a-week cooking makes it easier to put home-cooked meals on the table all week. With one day of cooking, you can make enough food for a week's dinners, including leftovers for lunches or other meals. The task may seem daunting at first, but with practice you may want to extend the practice to making an entire month of meals in one day. Having all of your meals ready ahead of time could save you money by preventing you from resorting to fast food when you're rushed or too tired to cook. Cooking at home also allows you to control the amount of salt, sugar and fat in your food and eat healthier.
Plan your meals for the week. Rely on items that do well when made ahead of time, such as casseroles, soups or main dishes, including meatloaf and spaghetti, that reheat well. Note down entrees, side dishes, breads and desserts. Also plan breakfast dishes, such as egg casseroles or muffins. Make note of any leftovers that will be available for lunches. For instance, if you make meatloaf, you can use leftovers for sandwiches the next day.
Round up the recipes for all of the dishes you need to cook and make a shopping list of all the ingredients you need to buy. Make sure that you have plenty of foil or freezer containers on hand for your meals.
Shop in the morning or on the way home the day before your cooking day to ensure that all of your ingredients are fresh when you're ready to start cooking. As you unpack your purchases, group all of the ingredients for a single dish together so that they'll be easy to locate when you start cooking.
Put on some music you enjoy and tie on a cute apron. Tie your hair back out of the way. Wear comfortable shoes, since you'll be on your feet for a while. Clear the counters to give yourself plenty of room to work.
Pull out all of the pots, pans and dishes you'll need and any appliances, such as a slow cooker. Set these on the kitchen or dining room table. You'll want them within easy reach but out of your way.
Tape copies of all the recipes you'll be using to the kitchen cabinets at eye level.
Prepare all of the raw vegetables and fruit you need. Wash and shred the lettuce for salads and add grated carrot. Store the prepared vegetables in plastic bags or bowls in the refrigerator and use them as the basis for green salads to accompany your meals all week. Also chop any celery, peppers, onion and garlic you need for your recipes. Make a fruit salad to serve as a side dish one night.
Start any slow-cooker dishes, such as soup or dried beans. If you have a bread maker, start a loaf of bread in the bread maker.
Focus on preparing one food group at a time. Assemble all of your meat main dishes and start them cooking before moving on to vegetables, side dishes or desserts. Following a set schedule will help you stay organized as you work. As you complete each dish, check it off on your list.
Cover completed dishes with foil and write cooking directions on the foil with a marker; note any ingredients that need to be added at the time of preparation, such as cheese on the top.
Clean the kitchen, put everything away and give yourself a well-deserved rest.
References
"The Once a Week Cooking Plan"; Joni Hilton; 1999
Tips
Enlist helpers and assign each person a task, such as chopping vegetables or preparing the baked goods.
Check off meals on your master list as they're completed.
Store main dishes you'll use in the next couple of days in the refrigerator. Freeze everything else.
Writer Bio
Cynthia Myers is the author of numerous novels and her nonfiction work has appeared in publications ranging from "Historic Traveler" to "Texas Highways" to "Medical Practice Management." She has a degree in economics from Sam Houston State University.
Photo Credits
Buccina Studios/Photodisc/Getty Images