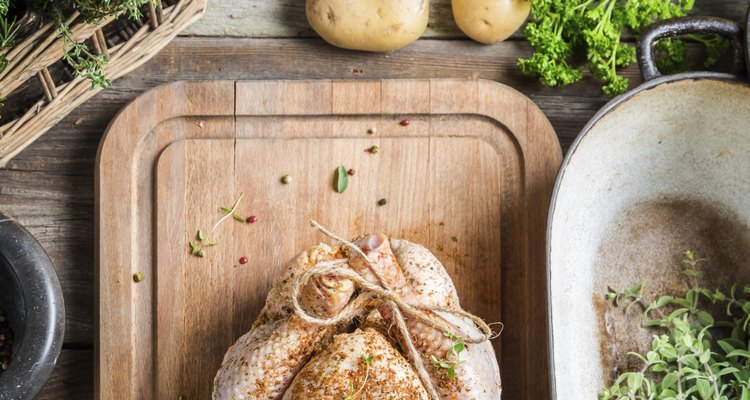 Shaiith/iStock/Getty Images
Turkey joints are the cheaper alternative to other, more expensive parts of the turkey. Some people struggle when it comes to cooking turkey because if it's not done properly, turkey can become dry and difficult to chew. But a turkey joint can be delicious, succulent and juicy if you know how to prepare it.
Rinse the turkey joint in cold water, then pat it dry with a paper towel.
Rub the turkey joint with butter or olive oil to make sure it remains moist.
Season with salt and pepper and place the turkey joint on the baking tray.
Place a sheet of tin foil over the top of the turkey joint.
Pre heat your oven to 220 degrees.
Put your turkey joint in the oven for half an hour. After half an hour, turn the oven down to 170. Remove the foil from the turkey and continue cooking for about two hours.
Check to see if the turkey joint is cooked properly by piercing the fleshiest part with a fork. The juices should be clear; if they are not put the turkey joint back in the oven for another half-hour.
References
Writer Bio
Graeme Burke has been writing since 2001, covering subjects such as nutrition, biology, physiotherapy and fitness. He also works as a fitness instructor. Burke holds a Master of Business Administration in physiotherapy and two undergraduate degrees in nutrition and sports therapy.
Photo Credits
Shaiith/iStock/Getty Images