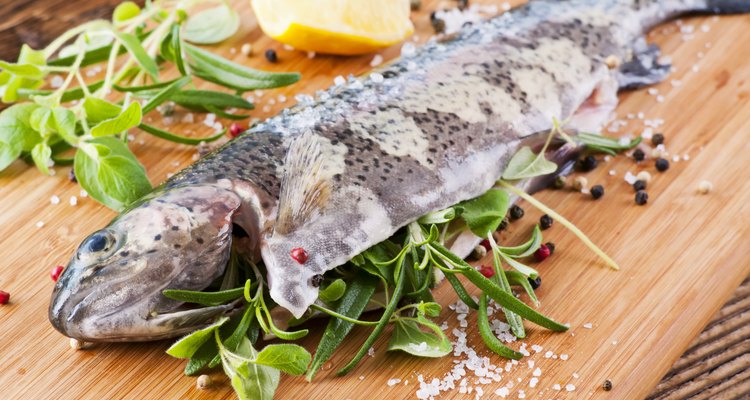 hlphoto/iStock/Getty Images
Fillets are commonly used by home cooks when they want to serve fish, but "How to Cook Everything" author Mark Bittman says that whole fish, such as whole rainbow trout, is just as simple to cook while providing even more flavor. Rainbow trout is an excellent source of protein, vitamin D, vitamin B-12 and selenium. It's low in total fat and saturated fat, and it's also rich in omega-3 fatty acids, which may help lower your risk of heart problems. The Monterey Bay Aquarium Seafood Watch advises choosing rainbow trout farmed in the United States, since it is low in contaminants and harvested in an environmentally friendly way.
Preparing Whole Rainbow Trout
Rinse the boned, cleaned fish under cool running water. Pat the fish dry with paper towels.
Season the inside of the rainbow trout with salt and pepper. Tuck your choice of fresh herbs into the fish's cavity, choosing from sprigs of fresh rosemary, tarragon, dill, thyme or oregano, or use a combination.
Add thin slices of lemon on each side of the herbs, if desired. Drizzle olive oil on the outside of the rainbow trout and sprinkle with salt and pepper.
Cooking in the Oven
Cut heavy-duty aluminum foil into a square that can easily accommodate the rainbow trout. Place the foil dull side up on a baking sheet, brush the foil lightly with oil, and put the prepared fish in the center of the square.
Fold and tightly crimp the edges of the foil square, forming a packet that encloses the trout. Put the baking sheet in an oven that's been preheated to 450 degrees Fahrenheit.
Bake the fish, planning on approximately 10 minutes for a rainbow trout that is around 2 pounds. Remove the packet and use a fork to check that the flesh can be easily flaked. Serve with the accumulated juices poured over the fish.
Cooking on the Grill
Prepare a charcoal grill, or preheat a gas grill for 10 to 15 minutes. Use a wire brush to scrub the grate clean.
Coat the grate with a light film of oil. Put the rainbow trout on the preheated grill, diagonal to the grate.
Grill, uncovered, for approximately 4 to 5 minutes per side. Remove the fish with a spatula and put it on a plate. Check that the flesh flakes easily with a fork.
References
How to Cook Everything: Simple Recipes for Great Food; Mark Bittman
Tips
Ask your fishmonger to clean and bone whole rainbow trout for you if you can't find precleaned fish.
Experiment with different fillings for your rainbow trout, such as garlic mixed with sautéed dark leafy greens.
Warnings
To keep the intake of contaminants such as mercury low, pregnant women and young children should eat no more than 12 ounces of fish each week. Avoid eating fish caught in rivers and lakes until you've checked with local advisories about contamination levels.
Writer Bio
Michelle Kerns writes for a variety of print and online publications and specializes in literature and science topics. She has served as a book columnist since 2008 and is a member of the National Book Critics Circle. Kerns studied English literature and neurology at UC Davis.
Photo Credits
hlphoto/iStock/Getty Images